For future expansion of the system we need to be open to thinking outside the box. How can build the Utica Ave Subway?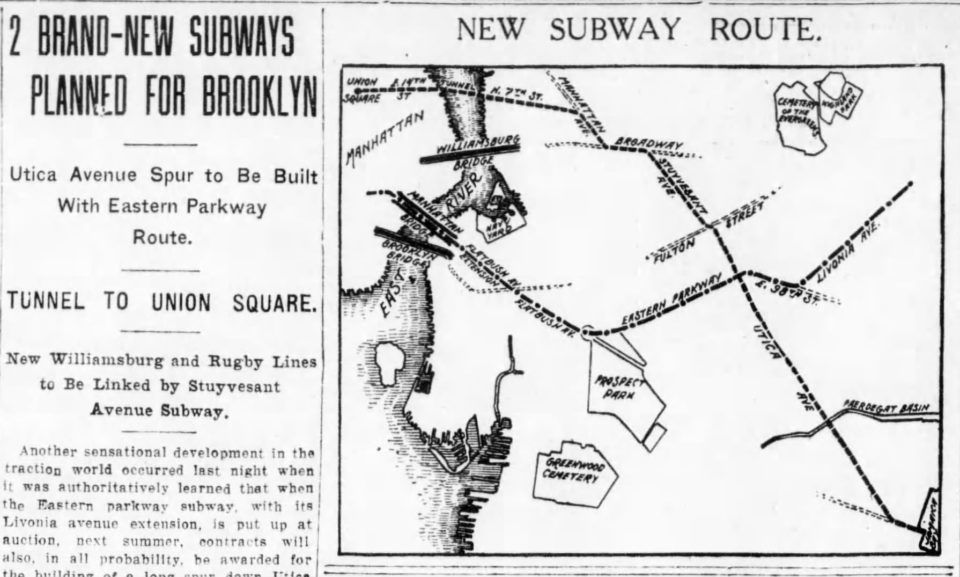 The Utica Ave Subway has always played second fiddle to its more well known and well documented younger sibling 2nd Ave. But Utica predates 2nd Ave by at least a decade. The first instance I can find of a proposal for Utica comes from a NY Times article in 1913 where residents were debating the best route. When the IRT built the Eastern Parkway Line between 1915 and 1918 they built into it a provision for a future branch down Utica Ave (the IRT, in fact, built its entire Brooklyn section with many provisions for future expansion that either never happened or ended up being built by a competing company). As part of the NYS Public Service Commission report in 1912 on new lines the Commission recommended a 4 track 14th St Subway with branches through Williamsburg. Although not in the official report, soon after it was proposed to connect 14th St to Utica Ave. This would be the beginning of the IND plan which would ultimately propose extending a branch of the 6th Ave Subway through Williamsburg and down Utica Ave.
When the IND built their lines they did so with room for expansion and most of the provisions and abandoned sections that did get built had something to do with Utica Ave. The 2nd Ave station (F line) was built with express tracks pointed towards Brooklyn (the 6th Ave express trains would have made up the bulk of the Utica Ave Line), at the Broadway G station there is the shell of the never built South 4th St station which was to serve Utica Ave trains, and at Utica Ave station on the Fulton St Line (A/C lines) there was on the upper level a shell for a 4 track station for Utica Ave trains.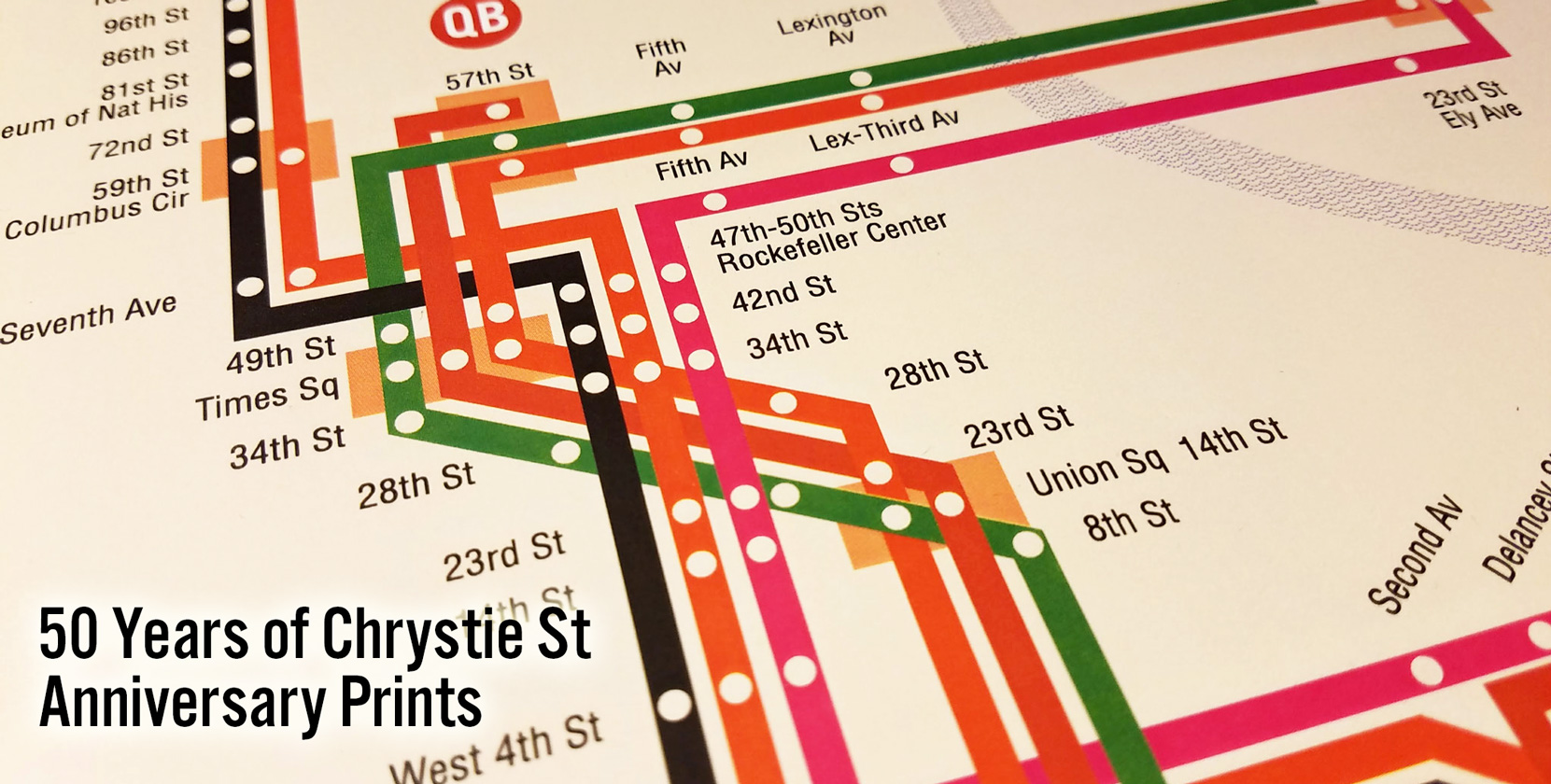 With these and the IRT provisions in place Utica Ave was always so tantalizingly close. But after World War II priority shifted to rehabilitating the existing system and even through Utica Ave would be featured in many of the post-War expansion plans there always seemed to be other projects that got chosen first. Even today Utica makes too much sense. It's a dense, transit dependent corridor with a recently opened and popular Select Bus Service line and the Utica Ave stations on the 3/4 and A/C have some of the highest ridership on their respective lines. In 2015 Mayor Bill de Blasio even proposed bringing the line back and supposedly the MTA has been studying the plan since. In fact I am writing this today because I want to get ahead of whatever the official plan might state; I have very little faith in MTA planners and I feel that anything they release will be overly designed in a way so that it's D.O.A.
From a strictly design point of view there are two main reasons that Utica has never gotten off the drawing boards. The first is that much of the line, as proposed by both IRT and IND engineers, was to be an elevated line. The New Lots branch of the IRT ascends to the surface right after it leaves Eastern Parkway (due very much to the terrain) and it would make sense that the IRT would have the Utica Line do the same. In IND reports it was proposed to have the line remain as a subway until Ave J where it would ascend to the surface and run elevated, originally to Sheepshead Bay, then later a more simplified route down Flatbush Ave to Floyd Bennett Field. While cost is an obvious reason for building an elevated over a subway there are also geological concerns in this area as the land through which Utica Ave runs has a very high water table and very sandy soil. Building a subway in these conditions means having to deal with tunnel flooding more so than normal and flooding means corrosion. Despite this residents of southern and southeastern Brooklyn would continually oppose any plan that involved elevated trains (even extensions of the Nostrand Ave Line as an elevated were blocked). Secondly is that the IND plan, like most of their plans, was wildly over designed and would require extra miles of subway from Eastern Parkway to the Lower East Side as well as a much wider 4 track trunk line instead of the IRT's proposed 2/3 track line (much like the New Lots branch the line would have been built with 2 tracks and space for a third to be added later).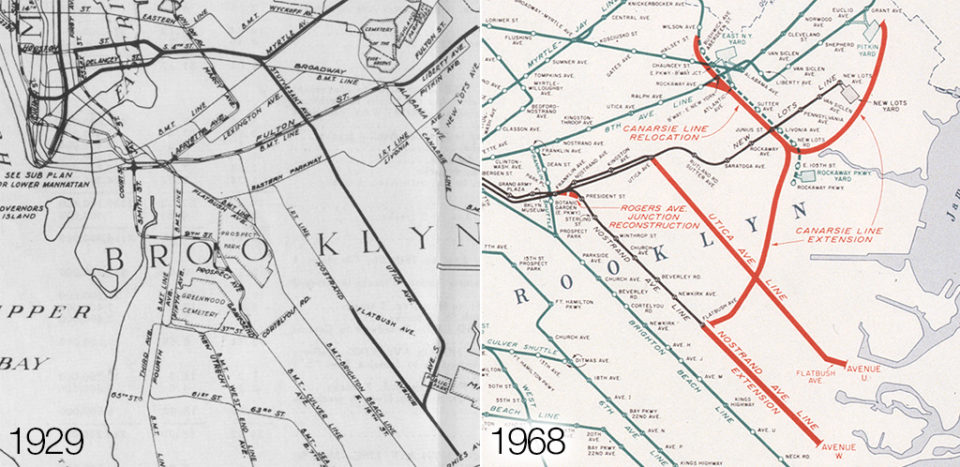 There is another part of the IND plan which, as far as I can tell, no one has figured out or brought up yet. One of the main reasons that the City wanted to build the IND was to replace the existing elevated lines which were old, slow, and unpopular as they cast streets in shadow and soot. The 8th Ave Subway was designed to replace the 9th Ave El, the 6th Ave and 2nd Ave Subways to replace elevateds running above their avenues. In the Bronx the Grand Concourse Subway was designed to at least compete with the Jerome Ave elevated if not eventually replace it and in Brooklyn the Fulton St Subway was built to replace the Fulton El out to Queens with provisions built to allow a connection with the Jamaica Ave elevated. It stands to reason, then, that the massive South 4th Subway with branches to Utica Ave and along Myrtle Ave was designed to replace the Broadway and Myrtle Ave Els as well. Taking this one step further this also supposes that, as the Worth St Line was to serve a similar catchment area as the BMT Centre Street Line (J train) that the new subways through the Lower East Side would replace the Centre St Line, thus leaving it up for abandonment (if this seems too preposterous keep in mind that half of this line is already, for all intents and purposes, abandoned).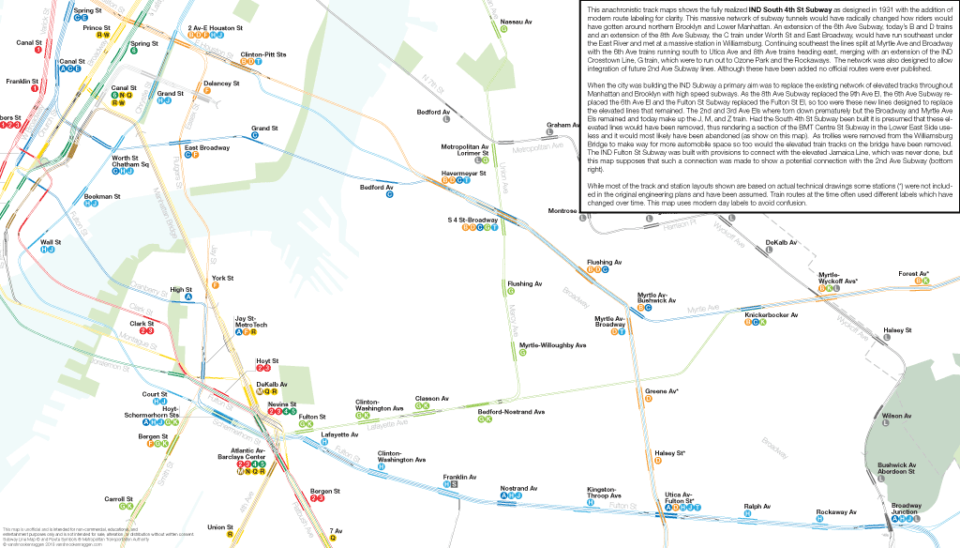 I often speak with other fantasy transit designers about Utica and the IND plan seems to be the favorite and for good reason. "Make no little plans", Daniel Burnham is purported to have said, "they have no magic to stir men's blood". Drawing fantasy lines on paper is far more fun when you have unlimited possibilities but if we are planning out a project today there are some real world considerations that come first. In my futureNYCSubway plans over the years I've always included Utica Ave in one form or another but one of the reasons I drew my NYC Subway Track Map was so I could see what I was really dealing with so we know what is really possible.
Looking at a modern take on IND plan, since the Chrystie St Connection rerouted the 6th Ave express trains over the Manhattan Bridge and the extra local service to Williamsburg, there is no extra capacity along 6th Ave to connect with the new line. This leaves the possibility of resurrecting the Worth St Line, a branch off the 8th Ave local that would split south of Canal St and head east via Worth St and East Broadway. The 2 track Worth St Line would require a 3.15 mile tunnel from Tribeca to Williamsburg. From the South 4th St station to Eastern Parkway is another 3 miles which would parallel the existing J/M/Z trains.
Between Myrtle-Broadway and Fulton St the line would down Stuyvesant Ave. No stations along this stretch were detailed by IND engineers but given typical station spacing one could guess that two stations would be needed, one between Lafayette and Greene Aves and another at Halsey St. The upper level at Utica Ave station on the Fulton Line would be used but only half of the existing structure would be needed since the modern line would be two tracks. Between Fulton St and Eastern Parkway the crest of the ridge which runs along Long Island rises 52 feet. On the opposite side, from Eastern Parkway to Empire Blvd, the slope descends 66 feet. The ascending tunnel grade would be about 1.4% and the descending 3.3%, both reasonable. A new station would therefore have to be built below the existing 3/4 Utica Ave station before continuing south.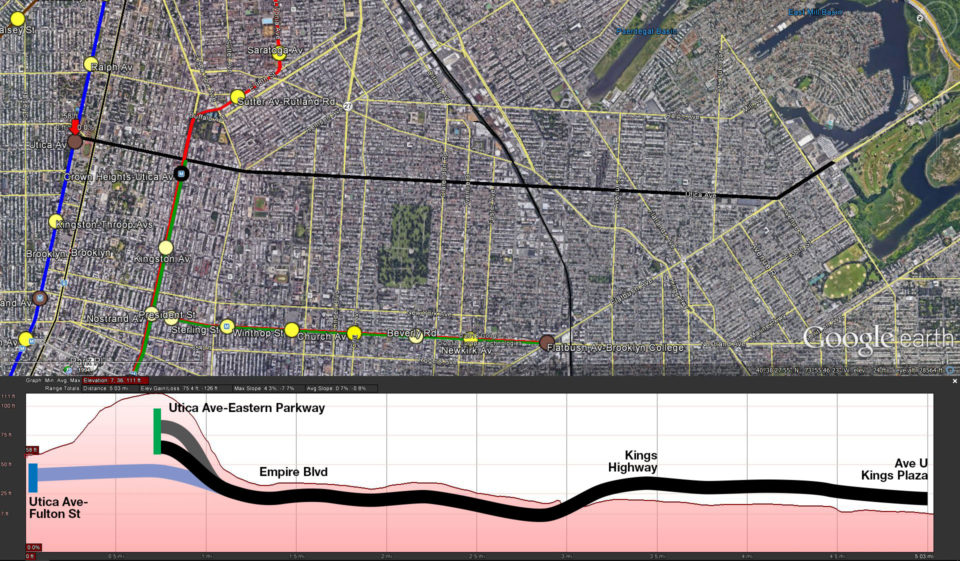 Now we reach Utica Ave. The subway itself would run straight down Utica Ave with potential stations at Empire Blvd, Linden Blvd-Church Ave and Clarendon Rd. Past Clarendon Rd the line would split with two tracks peeling east to a new yard facility built along the LIRR Bay Ridge line (requiring land taking). South of Kings Highway, due to the aforementioned geological issues, the line would have to be elevated. But what I'm proposing, and what I'm sure no City plan would dare propose, is that the line not run above the center of the avenue such as existing elevated but rather along private land on the west side of the street. The only elevated line that the IND ever built was the Culver Viaduct between Carroll St and 4th Ave-9th Sts and this was done in a similar way. The Culver Viaduct is at maximum 90 feet wide requiring it take up half the block (Brooklyn blocks like these are 200 feet wide). A 2 track line would only require half the space, 45 feet and with 100ft lots this leaves room for an ingenious workaround. The elevated structure would be built in such a way that future buildings would be built around and above the line. Going further the stations could even be built by private developers who would get a height bonus for building the station. The MTA would then lease the land as a way to bring in continued revenue and the new development would help pay for the construction.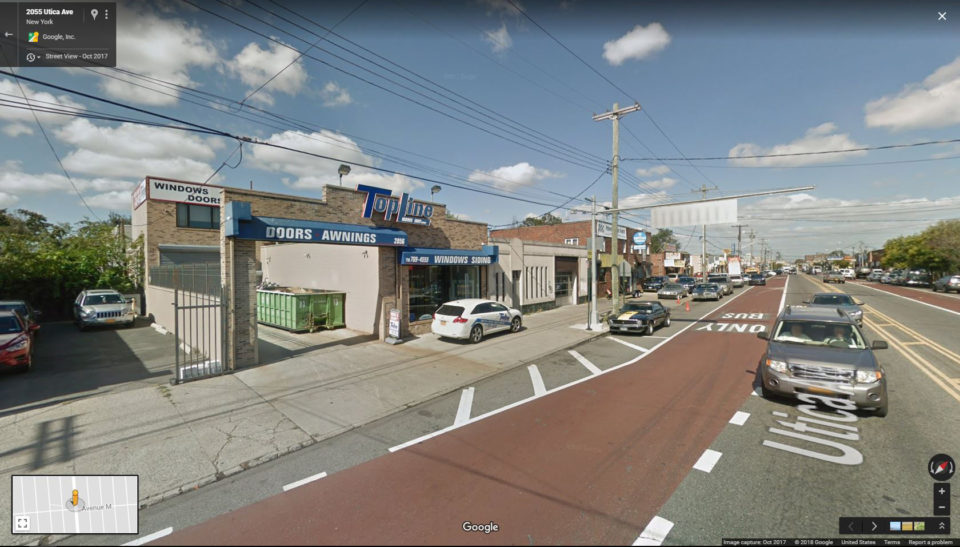 Lest I bring on comparisons to Robert Moses I would like to point out that on the western side of Utica Ave, from the Bay Ridge Line to Flatbush Ave, there are exactly 9 residential buildings. Everything else is a single or double story commercial or light industrial building, parking lot, and one school. The 9 residences, all located at Avenue M can all be replaced (and with new development replaced 100 times over) while the commercial and industrial buildings would all be replaced by buildings of much higher density and better uses than chop shops. The school, at Avenue J can very easily be replaced using the existing parking lot across the street. Between Avenue O and Fillmore St is an MTA bus maintenance facility which can be rebuilt to have a small yard on the roof. South of Kings Highway would be stations at Flatlands Ave, Ave N and after the line turns down Flatbush Ave, at Ave U-Kings Plaza. This final station is worth considering because even though half the catchment area is parkland and the Mill Basin canal the station would serve the popular Kings Plaza Mall and there is space for a modern bus terminal for better service around southeastern Brooklyn and to the Rockaways. Unlike the Utica Ave stretch, the Flatbush Ave structure would run along the center of the street on a modern concrete viaduct (similar to what the AirTrain uses long Van Wyck Expressway). Flatbush Ave is extra wide along this section and the median would be used to create a safer traffic pattern.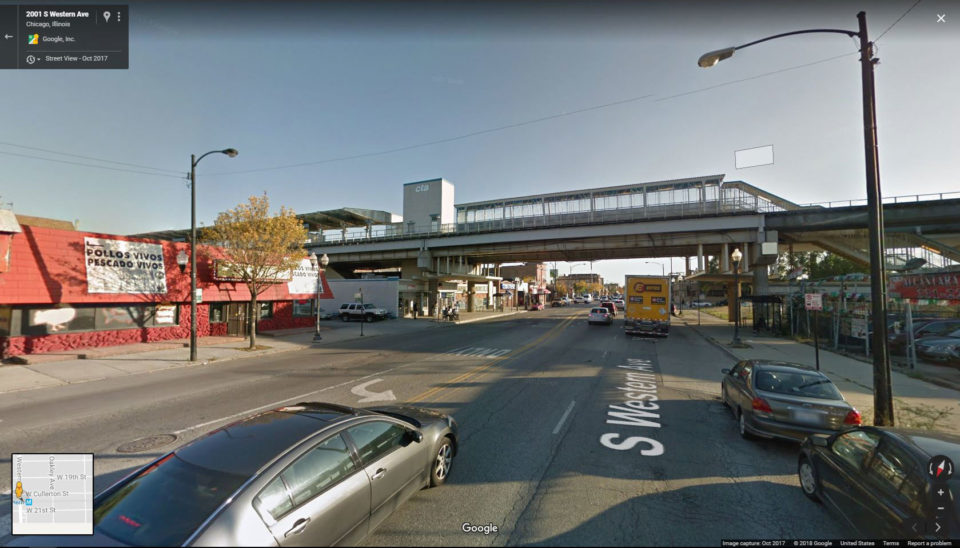 There seems to me to be two sections of this plan: the Worth St-South 4th-Stuyvesant Ave section and the Utica Ave section. Given the history of cost overruns and delays that the MTA is infamous for it seems foolish to build a project which requires so many moving parts even before the most important section can be built. Furthermore, the neighborhoods in northern Brooklyn through which the first part of the line would run are already served by existing subways. Since we are only building Utica and not the larger network designed to replace the elevated that means that the subway would be competing with the existing trains for riders and based on ridership statistics the stations along the route aren't exactly bursting at the seams: in 2015 annual ridership numbers
Hewes St: 981,379
Lorimer St: 1,614,154
Flushing Av: 2,991,074
Myrtle Av: 3,687,468
While those numbers are nothing to scoff at, especially as they have seen over 10% increases in ridership over the last decade, the E train at Jamaica-Parsons sees ridership of over 12 million annually. The transit desert is along Utica Ave south of Eastern Parkway. Looking at Census data based on commuting patterns of riders coming from the two zip codes along Utica Ave the primary destination for most riders is downtown Brooklyn with Midtown West second. This would suggest that even if the full line was to be built most riders would be transferring to trunk lines headed to downtown rather staying on to midtown via Williamsburg. This leads me to propose that the first part of the plan to be built is the Utica Ave stretch from Eastern Parkway to Kings Plaza connecting to the IRT Eastern Parkway Line but with provisions for a future extension north (all tunnels would be built to the larger B division specs).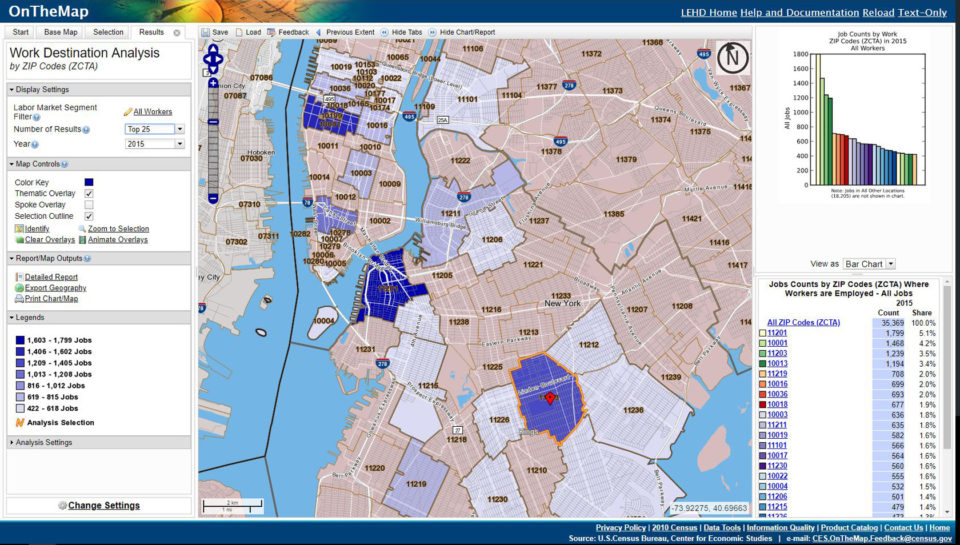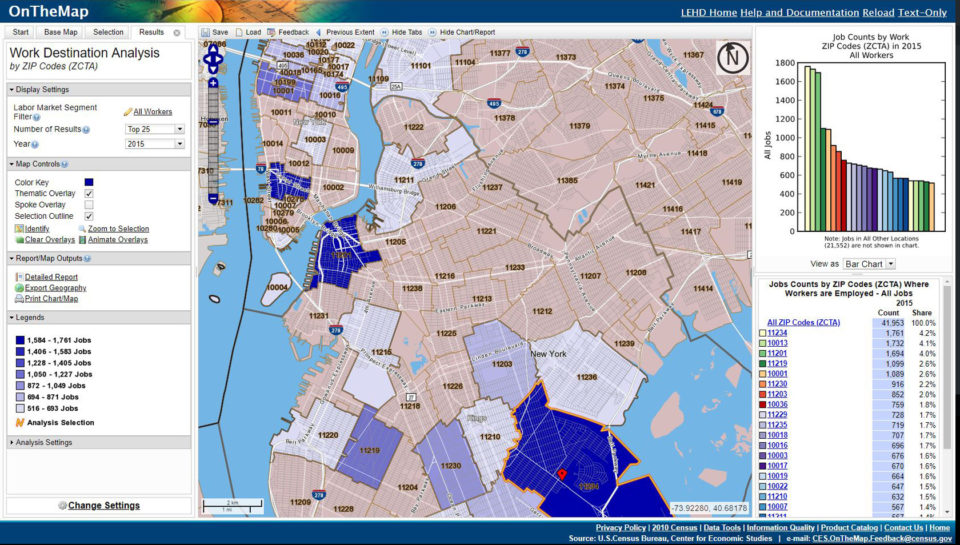 The IRT built their Utica Ave station west of Utica Ave with turnouts in the track walls so that a branch could split. The bi-level station means that the branch would have a simpler time merging with the trunk. What's needed for this to work, however, is the rebuilding of the Rogers Junction, the junction of the trunk and the Nostrand Ave Line at Franklin Ave. The junction is built awkwardly where the tunnels are twisting in such a way to become bi-level. The current switch layout requires that local trains merge directly in front of express trains causing delays and capacity constrains. The MTA studied [PDF] rebuilding this junction in 2009 and came up with two plans. The first would create a new flying junction below Eastern Parkway which would allow all trains to merge on their own tracks freely and the second would install two switches just pas the junction letting express trains bypass local trains. The first plan offers the highest operational flexibility and allows a continuation of both local and express trains to access Nostrand Ave but would cost close to $1 billion and require extensive excavation. The second plan would be far cheaper but would require that only local trains have access to Nostrand Ave while the express trains would split past the junction so that half would continue as locals and the other would run express.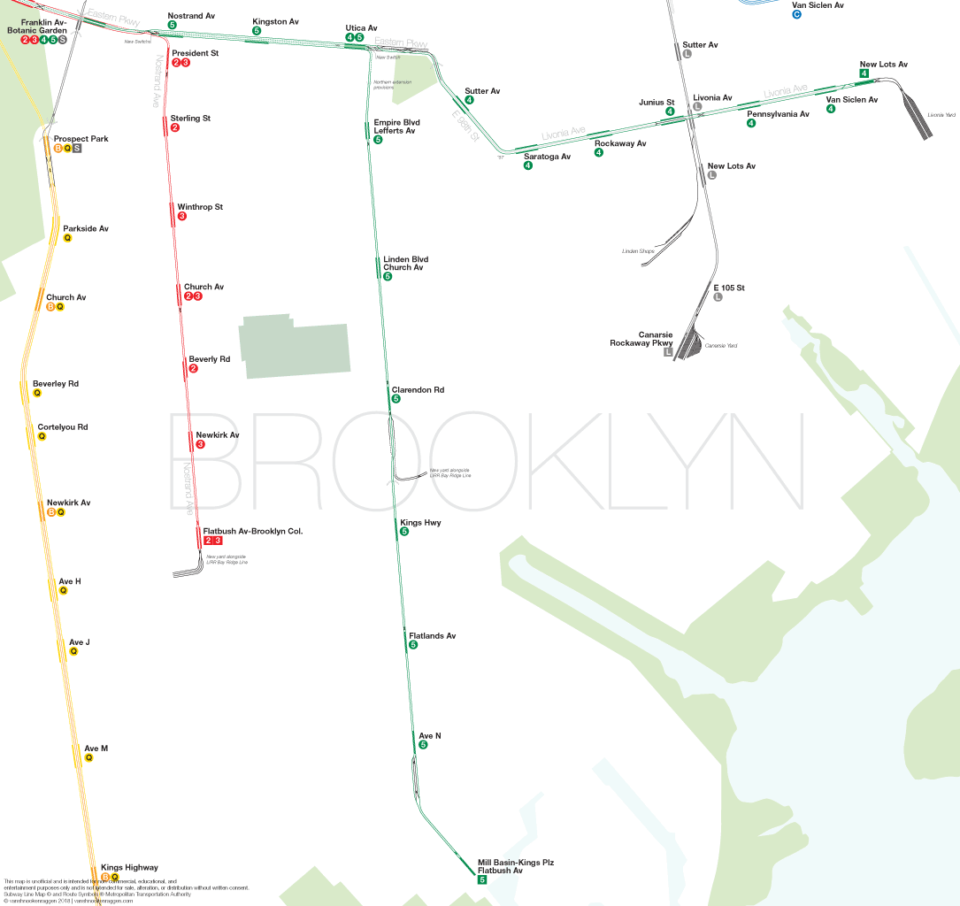 Knowing the reality of MTA construction I would argue that the second plan is the preferable option. With it both 2/3 trains would only go to Brooklyn College while 5 trains would serve the local stations, Nostrand Ave, Kingston Ave, and Utica Ave before turning south to Kings Plaza, while 4 trains would stay express to Utica Ave and take over service to New Lots. This configuration would have other benefits as the riders who are now coming from furthest away have default express trips while the 7th Ave Express-Eastern Parkway Local 2/3 trains can now have more even headways, reducing delays. An additional part of the project would be to create a better terminal at Flatbush Ave-Brooklyn College. While there are arguments to be made for extending the Nostrand Ave Line south I would argue that with the addition of Utica Ave that demand would be reduced as riders coming from the east or southeast would take Utica over a bus to Nostrand. Still, the terminal must be fixed so what is required is a short tunnel south that would allow a terminal yard of 4 tracks be built. This would boost capacity and turn around time on the entire 7th Ave express line.
There is a very good argument to be made that building the Worth St-Williamsburg section would alleviate traffic on the L train and serve a growing jobs center around Hudson Sq in lower Manhattan. But this does not deal with the immediate needs of those that live along Utica Ave. Building an extension of the IRT could be opened long before the section through northern Brooklyn and would have immediate benefits by serving more riders with direct service rather than requiring transferring. Building an elevated line designed to integrate into the built landscape rather than dominate it, while not new, is novel and one that will need time for the public to come round to. Many transit activists I talk to refuse any plan which would take a single building but this is unrealistic in any city. Even 2nd Ave had to take a few buildings for ventilation plants. But what this plan does is allow for a new and better city to grow around the line rather than be divided by it. I know this is something that the City won't consider if they ever release their Utica Ave plan which is why I want to start the discussion now. No doubt they will propose some deep bore subway with expensive stations that will take a decade or more to build. Alon Levy did a back-of-the-napkin estimate of how much a mostly elevated line would cost and found it a better cost per rider than even 2nd Ave. For future expansion of the system we need to be open to thinking outside the box.