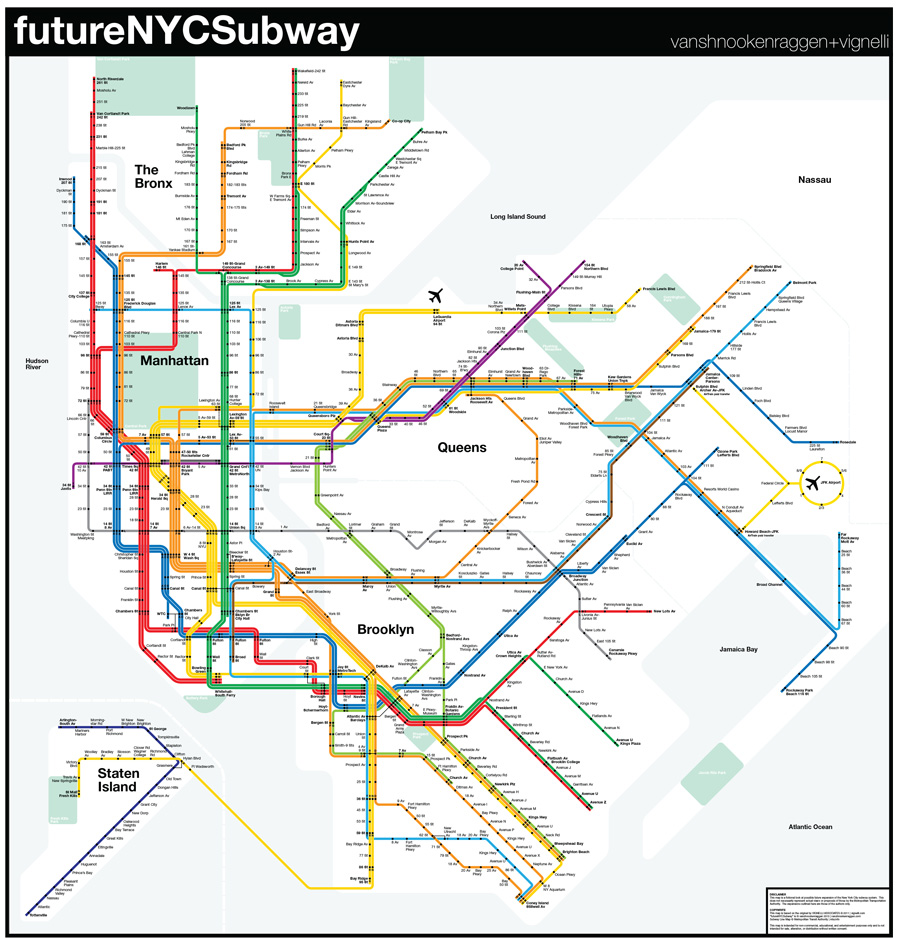 After posting the second version of my futureNYCSubway plan last week I received a lot of great feedback, especially on Second Ave Sagas. I never claimed to have all the best ideas so getting constructive criticism is fantastic. I did a quick look through my ideas verses what others proposed and I decided to do one last version which I think is actually more in keeping with the original methodology of finding a more affordable way to expand the system. I will break them down by highest priority to lowest.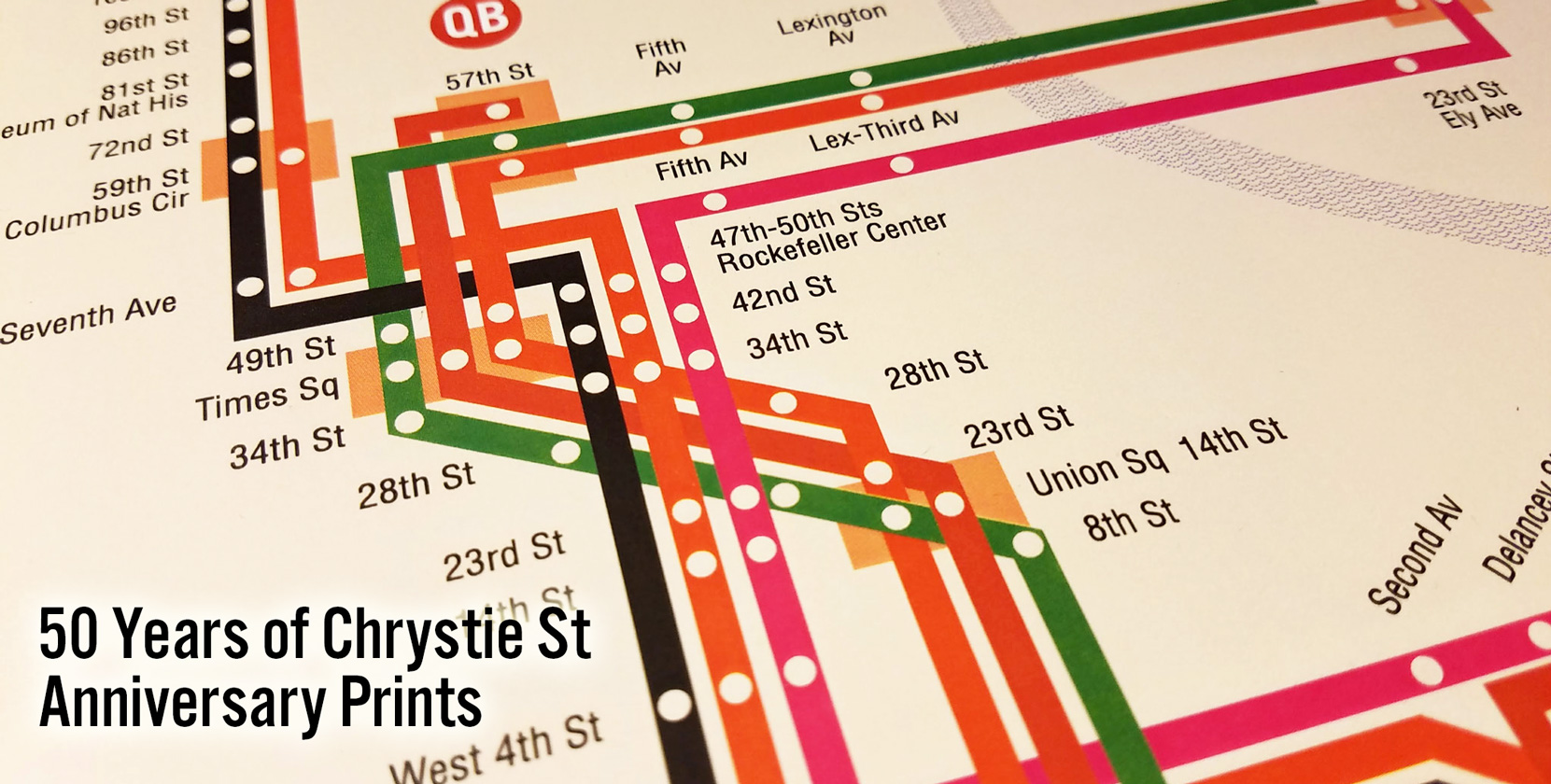 High Priority
2nd Ave Subway from 125th to Houston St.
While I am still adamant that the 2nd Ave Subway should be built with an express track I'll base my plans on the fact that Phase 3 will most likely be built with only 2 tracks. This limits the line to two branches without compromising headways. Phase 4 could be scrapped entirely and instead the 2nd Ave Subway can be integrated into the BMT Jamaica Line with one branch heading downtown via the Centre St Subway (and on into Brooklyn via the Montague St Tunnel) and the other to Brooklyn Junction via the Williamsburg Bridge. The BMT Jamaica Line is lightly used (and in fact half the subway is abandoned). The rerouting of the M train has shown what improved access to midtown Manhattan can do for ridership and I feel that a similar routing for 2nd Ave trains will increase ridership out to Broadway Junction. This new routing combined with the wave of gentrification moving east through Bushwick would mean a rapid rise in ridership along the line. 2nd Ave trains will actually terminate at Atlantic Ave on the L line using an unused connection between the BMT Jamaica and Canarsie Lines that was once in service when there were more elevated lines in Brooklyn.
On the north side of the 2nd Ave Subway someone suggested that the Q train, instead of heading west to Broadway, should in fact be routed up to Dyre Ave to take over the 5 train. This seems brilliant to me since it would provide Bronx residents a quicker one seat ride to Times Sq where a routing of the T train would still require a transfer. The T train would then extend under 125th St to Broadway as a crosstown line.
Queens Superexpress and Rockaway Branch Service
The Queens Superexpress remains a top priority due to the congestion along the Queens Boulevard Subway. I've simplified the design of the route in a way that accomplishes what I originally had in mind but with much less construction. Originally I had two connections, one to the 63rd St Tunnel and the other at Court Sq. This routing would have required a second Queens Plaza station. If, however, the connection at Court Sq is removed and instead moved just north of Queens Plaza you could route just as many trains but with less new construction. The F and M trains would switch so that Queens Boulevard local service (M) would split off after 36 St and use the 63rd St Tunnel to Manhattan while F trains would again use the 53rd St Tunnel. R trains coming from the 60th St Tunnel would branch off after Queens Plaza and connect to the Superexpress. This would simplify switching at Queens Plaza and free up space so that IND Crosstown G trains could again run to Forest Hills. Local riders would still get into Manhattan just as quickly as before and R train riders can transfer at Queens Plaza for the local G.
Coming off the 63rd St Tunnel 2nd Ave trains would then run express out to Howard Beach via the former LIRR Rockaway Branch and M trains would branch off at 63rd Dr and head to Howard Beach. The Woodhaven Boulevard station would be converted to an express station. R trains would connect back to the main Queens Boulevard Subway at Forest Hills and run out to Jamaica-179th as local with F trains running express.
Crosstown Line and Franklin Ave Connection
Creating a one seat ride from Brighton Beach to Queens Plaza via the IND Crosstown Line seems strange at first but doing so would create a new crosstown connection that would better serve half of the borough of Brooklyn which today has only a long bus ride available to them. Any commuter living east of Ocean Parkway has no direct access to the IND Crosstown Line and if they want to get to northern Brooklyn or Queens must make a long commute through downtown Brooklyn and lower Manhattan before changing for trains to Williamsburg or Queens. This 1.45 mile connection would shave a significant amount of time off of some commutes. The idea is not that far fetched since right now the MTA is planning a Select Bus Service for Nostrand Ave from Sheepshead Bay to Williamsburg. This bus will still have to deal with traversing almost the entire borough via street traffic. With a new crosstown connection many commuters would only have to take a short bus ride to the Brighton Beach Line. The new subway line would bypass all street traffic. With new office and residential development booming along the G train today this connection would also open up these new job centers to neighborhoods that currently have no direct access to them.
Many people have asked why I have not included the Triboro RX in my plans. Besides the point that if it was ever built it would use commuter rail technology and not subway technology, I also feel that it would cost much more than estimated and not serve the city as well as planners hope. I honestly feel that for the money the Franklin Ave Connection would be much more affordable and serve more commuters than the Triboro RX. With just one transfer you would be able to get from Long Island City to any subway line in Brooklyn using almost all existing subway lines (as a side note I would also recommend that on the BMT Jamaica Line Hewes and Lorimer St stations be truncated into a Union Ave station with free transfer to the IND Crosstown Line). That is the promise of the Triboro RX but one which would cost vastly more than the Franklin Ave Connection.
Medium Priority
Nostrand Ave and Utica Ave Lines
The biggest issue most people had with my previous plan was a lack of an IRT Nostrand Ave extension. A few people brought up the fact that the IRT in Brooklyn is still below capacity and building a Utica Ave Subway with IND specs would be overkill. I was originally against a Nostrand Ave extension due to the lack of express service but I realized that this could be overcome by implementing rush hour skip-stop service with the two trains that currently run there. The Nostrand Ave Subway could be extended south to Avenue Z with 5 new stations and skip-stop service would half the amount of time it would take to get to Eastern Parkway.
A Utica Ave line as well would best be served by IRT as well since new stations could be planned further apart. Additionally I still feel that the Utica Ave Subway can be built as an elevated line running through custom built buildings like a modern day High Line rather than elevated above the street to both save on construction costs and create a new source of income. The trains would run through the second story of these block long buildings with commercial space on the ground floor. As demand grows new buildings can be constructed above the tracks.
10th Ave Subway
I've removed the 86th St Crosstown line from the 10th Ave Subway proposal but a 2 track line, extending the L train at 14th St and 8th Ave to 72nd St and Amsterdam Ave, will still be required after 20 years of development throughout the west side of Manhattan overloads the 2/3 and 7 trains currently at capacity.
Astoria Line Extension to LaGuardia
Politicians made such a stink last time it was proposed due to a short elevated track extension but their shortsightedness will only make traveling to LaGuardia a pain for years to come. The only way to build out the current system is by building elevated trains in the outer boroughs. A one stop extension of the N train to LaGuardia which would run through an industrial no-mans land will hardly affect anyone and give travelers a one seat ride from the hotels of midtown to LaGuardia Airport.
This line could then be extended east through Flushing as originally envisioned in the 1929 Second System plan. Instead of running along the LIE the elevated line would connect to the Flushing Line at Willets Point and run along the Kissena Park Corridor out to Francis Lewis Blvd along a landscaped elevated track. Rush hour trains running out to Flushing would use the express track through Astoria and the W train could be brought back as a local train to LaGuardia.
Low Priority
Queens Extensions
Extending the Hillside Ave and Archer Ave subways in Jamaica should be included in any long range plan. Any subway extension this far out would have to be at grade (along the LIRR) or elevated to make it financially viable. The Hillside Ave Subway would be extended some distance east as a 2 track subway where it meets a portal and continues out to Springfield Boulevard as a 2 track elevated line. Local service would terminate at Jamaica-179th St and express at Springfield Boulevard. The Archer Ave Subway would be built with upper level or Queens Boulevard trains running along the LIRR Atlantic Branch to Rosedale and lower level or BMT Jamaica trains running out to Belmont Park along the LIRR Main Line.
In central Queens extending the BMT Myrtle Ave Line through Middle Village to Roosevelt Ave would create a much needed interborough subway connection but one that would be lighter in use than the IND Crosstown Line. It would open up Middle Village to subway service and allow Bushwick and Bed Sty residents access to jobs in Jackson Heights and Flushing. The extension itself would run along an existing freight railroad ROW and would run below grade. This would paralell a route used by the proposed Triboro RX but only for this short distance. Trains at night and weekend would run as a shuttle service between Roosevelt Ave and Essex St in Manhattan.
IRT Flushing 7 Train Extensions
As in my previous plan the 7 train would be extended as a 2 track subway further east under Roosevelt Ave to Northern Blvd at 157th St. I've combined the College Point Subway with the Flushing Line as a new branch leaving the main line after Main St-Flushing. The College Point branch would run north under Linden Place to 28th Ave where it would come to the surface and run at grade to a terminal at 20th Ave. These two small branches will move bus transfers back outside the congested downtown Flushing business district as well as allow for more efficient termination of trains in Flushing. Service may be split between a 7 and 8 train or running the line as branches.
Triple Track Jamaica Line
If extending 2nd Ave trains along the BMT Jamaica Line becomes successful I can foresee the need to triple track the rest of the Jamaica elevated track between Broadway Junction and 121st St. The line was built as 2 tracks with space for a third. This would require the rebuilding of stations along the way as some stations exist within the ROW of the third track and others will need to be rebuilt to accommodate express service. This may also be built in conjunction with the extension of the Archer Ave Subway out to Belmont Park. This is a low priority but one that could be built as a cheaper alternative to extending the IND Fulton St Subway. It's also a case of the chicken and the egg; which comes first, better transportation or growth in ridership? Extending 2nd Ave trains as a first step should be done to test if the ridership changes.
Bronx Extensions
I've never known why the 1 train had never been extended north to the border of Yonkers but when someone asked about Riverdale I realized that the 1 train could use an extension. I've also brought back the 9 train for rush hour skip-stop service since I believe that once the Hudson Yards and World Trade Center are both built and open the need for better service on the west side will warrant additional local service (9).
Extending the IND Concourse Line east to Coop City would kill two birds with one stone as it would finally bring a subway to Coop City and also create a de facto crosstown subway which would allow commuters to bypass congested parts of the Lexington Ave Subway and its Bronx branches.
Staten Island Subway
While many advocate a subway to Staten Island I feel that the best use of funds would be to restore the North Shore Branch of the Staten Island Railroad and possibly extend it to Newark with through running to Penn Station. While this trip would be a round about way to get from Staten Island to Manhattan it would be a one seat ride to midtown and acknowledge that not everyone who lives on Staten Island works in Manhattan.
If a subway is to be built I maintain that the best course of action would be to finally quadruple track the 4th Ave Subway through Bay Ridge and extend a 2 track subway to Fort Wadsworth. From here an elevated line would run out to Victory Blvd and south to the Staten Island Mall. If a subway was built along the northern alternative route, under 68th St in Bay Ridge to St George Terminal, the tunnel under the harbor would be twice as long and would require a subway through all of Staten Island (as opposed to an elevated track along a highway) and be vastly more expensive. It would also duplicate service rather than expand new service to areas not served by the SIRR.
Conclusion
Although this is a quick and dirty rewrite of my last plan I feel that this is probably the closest thing to what New York leaders should be aiming towards in terms of subway expansion. Obviously this is just one part to the transit network throughout the region and I have neglected to touch on commuter rail, ferry, bus, or light rail expansion. Those will be for another day. I want to thank everyone for their feedback and I look forward to hearing more after seeing this new update.
The real test is how to build such a network. It's going to take a strong political force to build anything in NYC; It always has. The current lot of mayoral contenders don't seem to have much of a plan for transit expansion. Such a vast expansion plan will take a revolutionary funding source and I wouldn't know where to begin with devising one; Congestion pricing could work if it wasn't politically unpopular. So we wait and the subways we have get more crowded by the day. Hopefully I can inspire someone who knows how the game works and one day these will be more than lines on a computer screen.