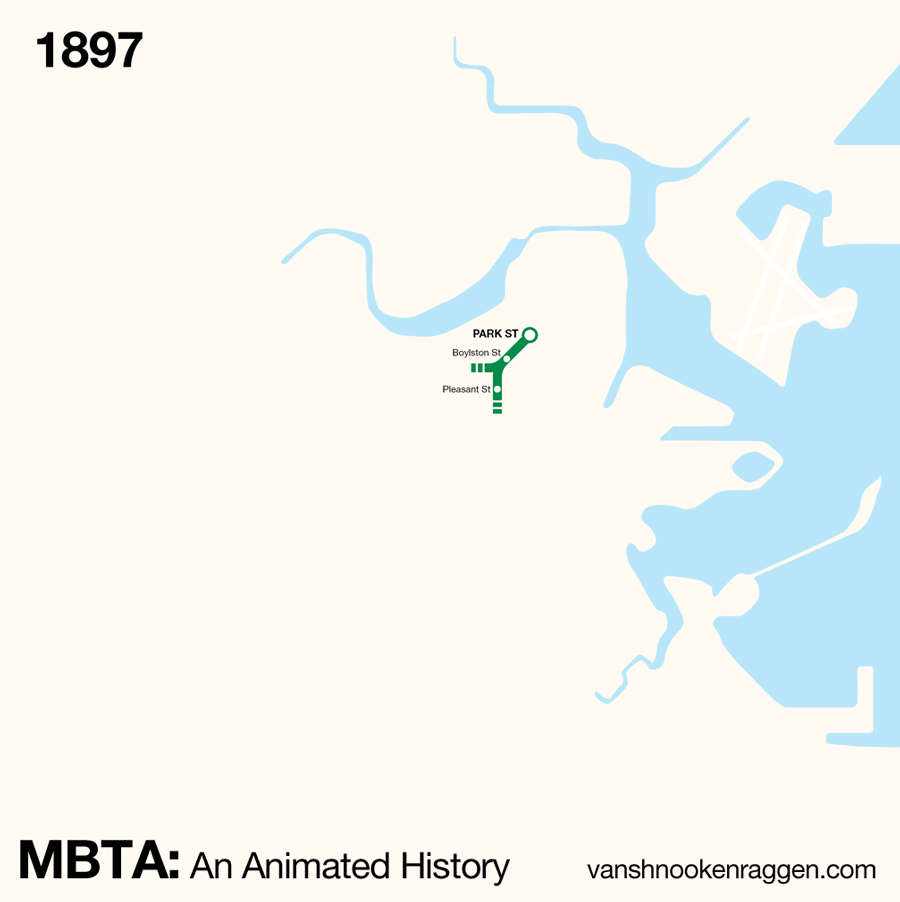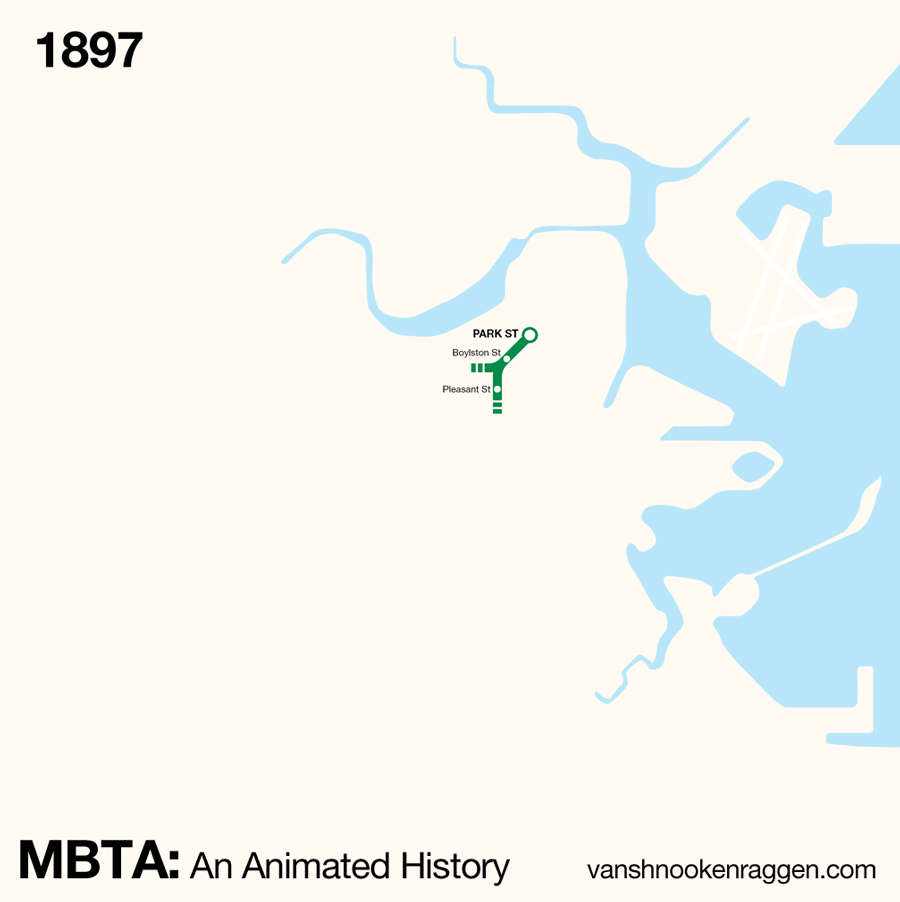 Inspired by the map made by Bostonography for their post about the 100th anniversary of the Red Line in Boston opening (from Harvard Sq to Park St) I decided to see what the system would have looked like in the vernacular of the modern system map. The present system map didn't come into being until the system-wide style modernization in 1967. Before then the maps didn't use colors (or when they did it was different, as in the case where the "Red" line was colored blue). Lines were known by where they went, as in the Washington St subway or the Cambridge subway, or the Commonwealth Ave trolley.  The names were chosen (so the urban legend goes) because: Red Line went to Harvard (their school color being crimson), the Green Line went along the Emerald Necklace, the Orange Line went under Washington St which was in colonial times known as Orange St, and the Blue Line which went underwater.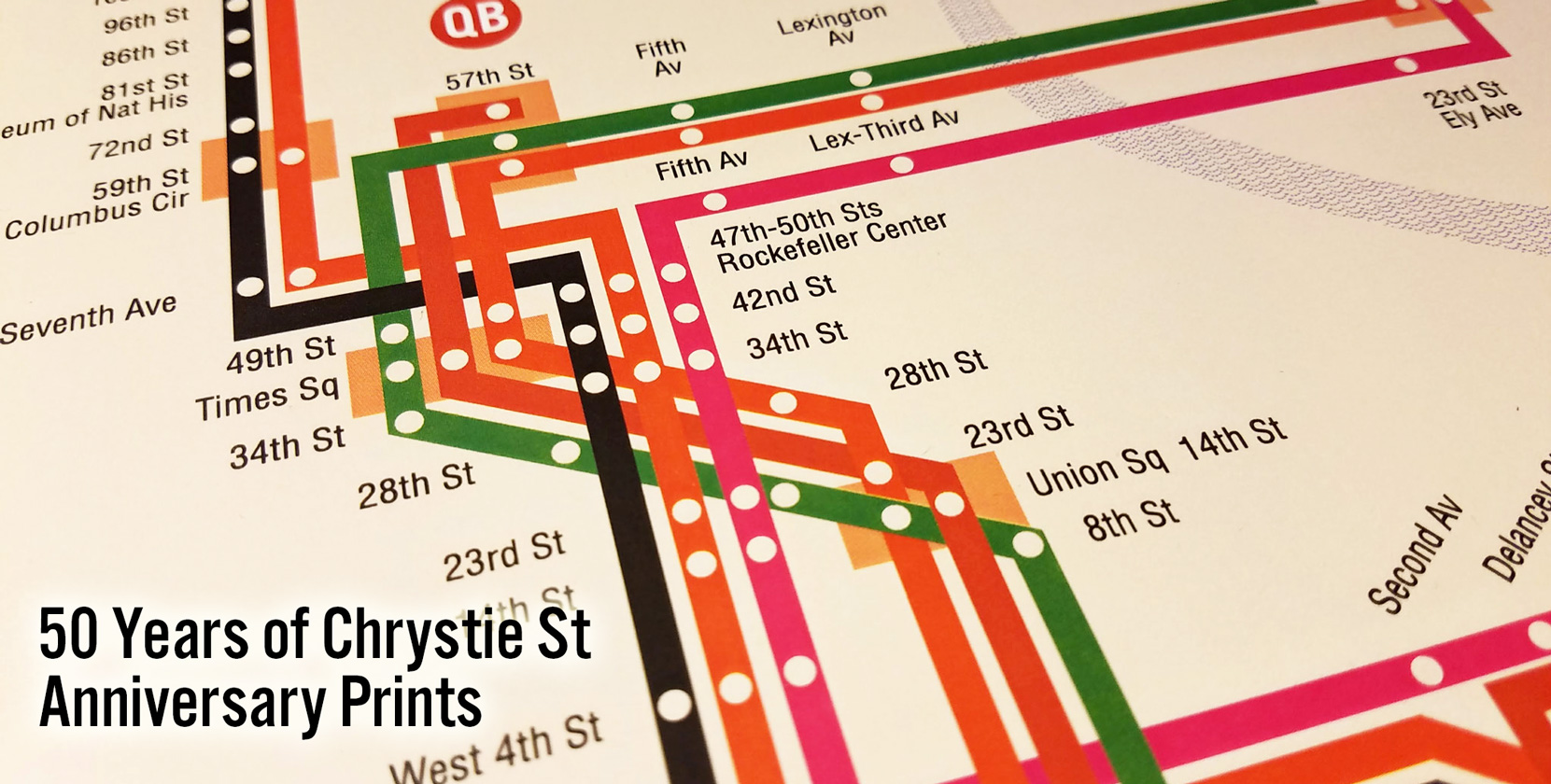 So instead of just flashing a bunch of old maps that all look completely different, it made more sense to stick to one style and animate each year when the system was expanded (or contracted in many cases). I toyed with the idea of having text describing each change on the map but found that too confusing since you can't control it for each slide (which I may create later).
Listed below are the changes to the system by year.  I refer to all lines by their present day names:
1897: The original subway opens for Green Line trolleys from Allston to Park St.
1898: Park St to North Station is opened with a trolley incline at North Station for all trolleys to the north of the city.
1901: Orange Line opens in four segments: Sullivan Sq to North Station (elevated), North Station to Dover St (Atlantic Ave elevated), Dover St to Dudley Sq (elevated), and a routing though the Green Line subway from North Station to Pleasant Ave.
1904: Blue Line opens as a trolley tunnel from Maverick Sq to Court Sq at Scollay Sq.
1906: Atlantic Ave station opens on the Blue Line.
1908: Washington St subway opens on the Orange Line, Green Line restored to trolley service.
1909: Orange Line extended from Dudley Sq to Forest Hills.
1912: Red Line from Harvard Sq to Park St opens; Green Line extended to Lechmere; Green St station on the Orange Line added.
1914: Green Line extended to Kenmore Sq.
1915: Red Line extended to Washington St.
1916: Red Line extended to South Station; Blue Line extended to Bowdoin Sq.
1917: Red Line extended to Broadway.
1918: Red Line extended to Andrew.
1919: Orange Line extended to Everett; Beach St station closes.
1921: Arlington station added to Green Line.
1922: Lechmere becomes terminal for Green Line trolleys.
1924: Blue Line converted from trolley to heavy rail.
1927: Red Line extended to Fields Corner.
1928: Red Line extended to Ashmont.; Atlantic Ave el service cut back, rush hour service only from Dudley to North Station (Dashed Line).
1929: Mattapan High Speed Line opens.
1932: Green Line extended past Kenmore with portals for Watertown, Boston College, and Cleveland Circle trolleys; Charles St station added to Red Line.
1938: Atlantic Ave elevated service ended.
1941: Huntington Ave subway opened on Green Line from Copley to Arborway.
1952: Blue Line extended to Suffolk Down.
1954: Blue Line extended to Wonderland.
1955: Science Park added to Green Line.
1959: Riverside Line added to Green Line from Kenmore Sq to Riverside.
1961: Pleasant St portal closed on Green Line.
1963: Adams Sq station closed; Scollay Sq changed to Government Center; Mechanics station changed to Prudential (All Green Line).
1965: Massachusetts station renamed Auditorium (Green Line).
1967: Orange Line stations renamed: Friend-Union > Haymarket, Milk-State/Devonshire > State, Washington/Summer-Winter > Washington, Boylston-Essex > Essex.
1969: Green Line Watertown "A" banch closed.
1971: Red Line extended from Andrew to Quincy Center.
1975: Orange Line Haymarket North extension opens from North Station to Malden Center; Charlestown elevated closed.
1977: Orange Line extended to Oak Grove.
1980: Red Line extended to Braintree.
1983: Quincy Adams station added to Red Line.
1984: Red Line extended from Harvard Sq to Davis Sq.
1985: Red Line extended to Alewife.
1987: Orange Line Southwest Corridor opened from Chinatown (renamed from Essex) to new Forest Hills; Washington St elevated closed; Green Line truncated to Heath St from Arborway.
1988: Columbia changed to JFK/UMass; added to Red Line Braintree branch.
1990: Auditorium renamed Hynes/ICA (Green Line)
2002: Silver Line Phase I: Washington St opens.
2004: Silver Line Phase II: South Boston to Logan Airport/City Point opened.
2009: Silver Line to City Point discontinued; Silver Line Dudley Sq to South Station opened.
The MBTA of today is hardly recognizable from the system a century ago.  This says a lot about the willingness of Boston to change and adapt itself to survive.  The many extensions from 1971 to 1987 were funded by transferring funds from canceled highway projects to mass transit.  During the 1990s the subway was neglected in favor of expanding commuter rail.  These suburban extensions were never paid for and are a huge reason the MBTA is steeped in so much debt today.
Now if you are anything like me (and obviously you are or you wouldn't be here) you want to be able to take in each slide like it's a fine scotch. I've created a gallery of each slide below so you can see each one and track the changes. The gallery viewer also has a slideshow function which works just like the animation above.