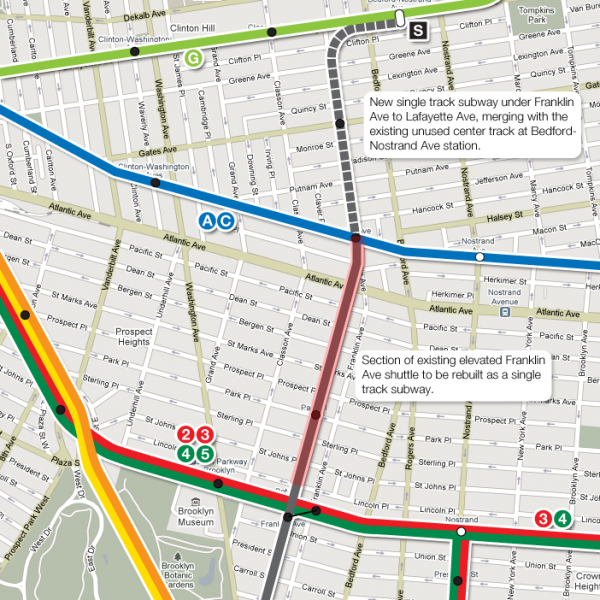 If the subways of New York City act as arteries pumping commuters through the body of the city then the Franklin Ave Shuttle in Crown Heights is surely the appendix of the city.
History of Franklin Ave Shuttle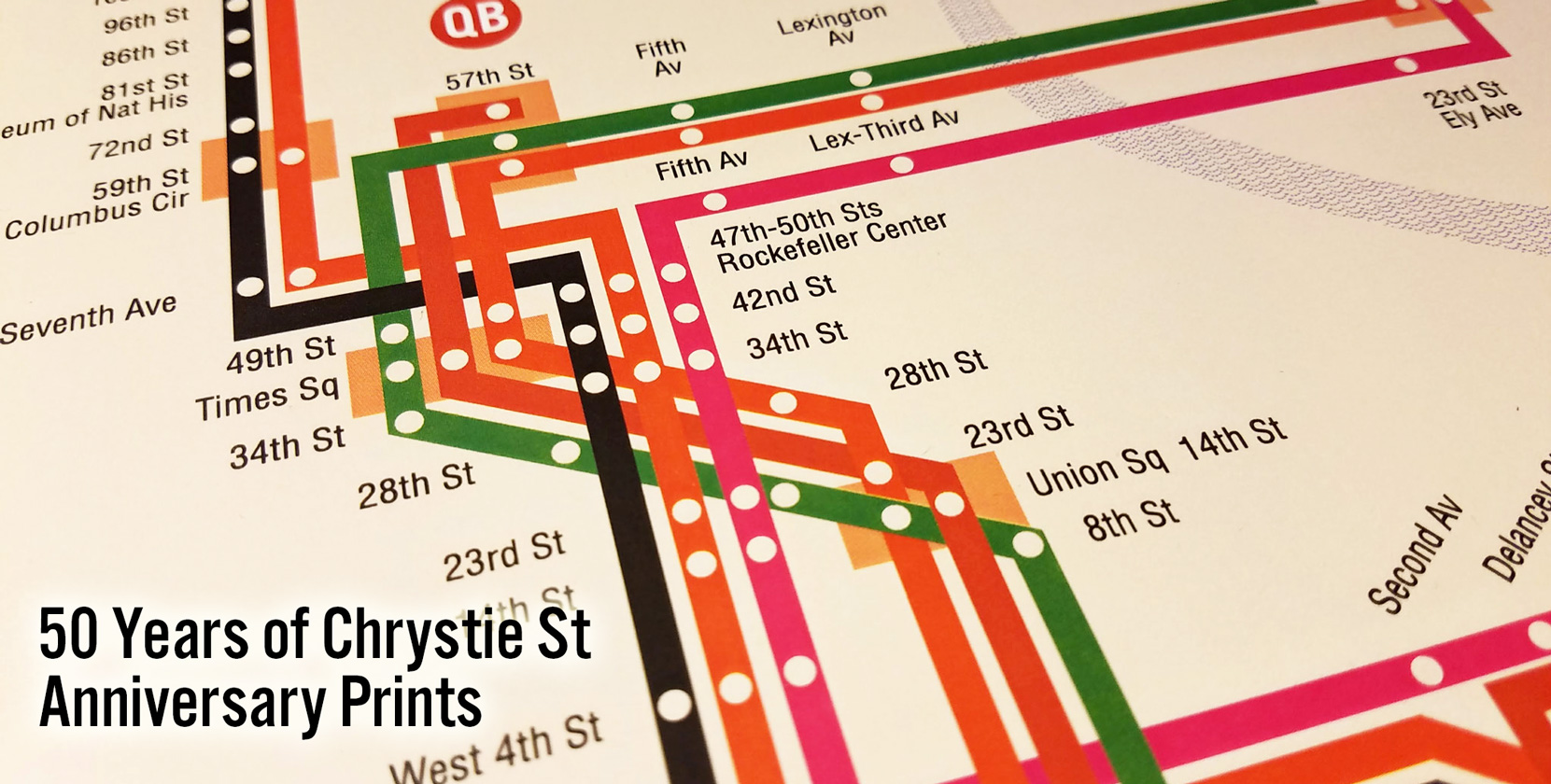 The Franklin Ave Shuttle has quite an interesting history. Like with the many of the subways in Brooklyn the line started off as a steam railroad to bring people to Coney Island in the summers. The Brooklyn, Flatbush & Coney Island Railway was born in 1878 and ran from the Long Island Railroad terminal at Flatbush Ave to the former Bedford Terminal (long since demolished now), then made a 90 degree turn south and cut it's way through that glacial moraine that runs through the center of Long Island (the slope in Park Slope, the heights in Crown Heights), popping out just past Flatbush Ave. From here the line ran straight to Brighton Beach along the very same right-of-way that the BMT Brighton Beach B and Q trains take (the line was originally built at grade and eventually expanded and grade separated as this section of Brooklyn began to develop).
In 1899 the line was rebuilt and connected to the Fulton St elevated train which ran along Fulton St to the Brooklyn Bridge. This allowed passengers a direct link to downtown Manhattan. This connection didn't last long as in 1920 the subway under Flatbush Ave was built out to the Prospect Park station and even quicker subway service began running to Brighton Beach. The Franklin Ave line still ran to Fulton St over the elevated track for 8 more years until the Fulton St elevated line was closed and replaced by the current subway, the IND Fulton St A and C trains. Interestingly service still ran between Brighton Beach and the new truncated Franklin Ave station at Fulton St until 1963 when the current shuttle service was born.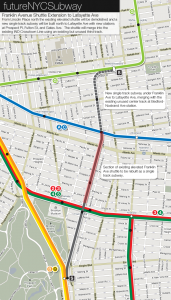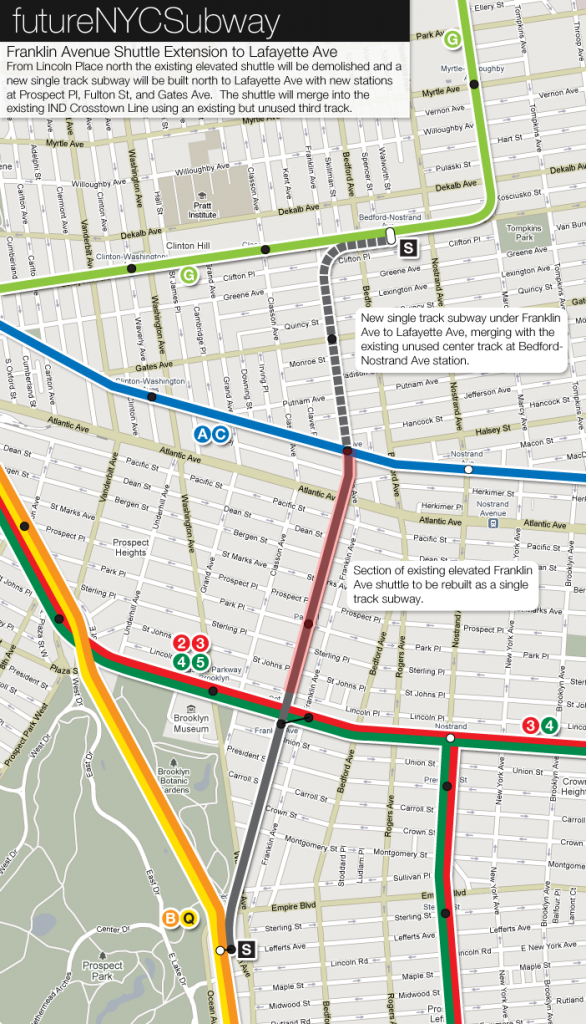 In 1999 the entire shuttle line was rebuilt with new stations. The original line was two tracks with stations at Fulton St, Dean St, Park Pl, and Consumers Park (rebuilt as Botanical Gardens). Due to the short distance between Dean St and Park Pl stations the Dean St station was completely demolished. The line now runs mostly on one track, from Franklin Ave to Park Pl, then two tracks to Prospect Park.
Source: BMT Franklin Ave Line
Although the line is not that heavily used it does provide an important connection for commuters coming from southern Brooklyn to the subways coming from eastern Brooklyn. If you are commuting, say, from Midwood, and you want to connect to the A or C train, the only other connection possible would be to transfer at DeKalb Ave to the R train, take that one stop to Jay St-Metro Tech, and transfer again. Keep in mind that this transfer only opened in February 2011. To transfer to the IRT 2,3,4, or 5 trains, someone coming from southern Brooklyn would need to change at Atlantic Terminal, not that convenient given how large and disconnected that station is. Because of the legacy of three different companies competing against one another, transfers are difficult or non existent in the case of the IRT and IND lines in Brooklyn. Where do you switch from the 4 train to the A train? In Manhattan only. Another legacy is that of Manhattan-centric service patterns. The subway system is geared more towards people commuting into and out of Manhattan every day than from Brooklyn to Queens (or another borough). Ask anyone who lives along the G train and they will tell you how inconvenient it is.
Interestingly, transit planners have long seen the potential of using the Franklin Ave right-of-way as it parallels both Bedford and Nostrand Avenues, both important north-south thoroughfares. As far back as 1922 when the city first proposed building it's own subway system (back then there were only two private, competing systems, the IRT and BMT) there were plans to utilize this small section of track. What today is known as the IND Crosstown Line G train had a much grander origin.
From NYCSubway.org
Brooklyn Crosstown Line

The so-called Brooklyn Crosstown Line was originally projected as an elevated [line] when the dual system was laid out, but its construction was deferred because of local objection to elevated construction, and because of the fact that the city's resources for the more expensive alternative of subway building had been exhausted. It is the opinion of the [Transit] Commission that the line should be built as a subway without further delay; first, as a means of articulating all of the rapid transit lines at present traversing Brooklyn and Queens, so that any one of these can be reached conveniently and quickly from any other one; second, as a means of access to the shore front of Brooklyn and Queens north of the Navy Yard; and third, as a direct means of carrying passengers from Manhattan and Queens to Brooklyn and Coney Island without traversing the congested district of lower Manhattan.

Such a line will tend further to decentralize traffic by building up another prosperous business thoroughfare north and south in Brooklyn, and will save the Queens traffic bound for Brooklyn from a long detour through Manhattan. Through Long Island City the line will follow Jackson Avenue, one of the widest and most important thoroughfares in the business section of Queens.

Through the Greenpoint section of Brooklyn, it will follow Manhattan Avenue, the principal business street of that section, and thence through Roebling Street, Williamsburgh, and by the cutting of a new street, of about three blocks in length, from Roebling Street to Bedford Avenue, to a connection with the Brighton Beach Line at Fulton Street and Franklin Avenue. In its progress it would furnish points of transfer to the stations of all the other lines it would intercept-the Broadway, Myrtle and Lexington Avenue elevated lines, and the 14th Street-Eastern subway.

The Commission has also in view a further connection between this line by way of Flushing Avenue or Park Avenue and Jay and Smith Streets, to the Borough Hall section of Brooklyn. At some future time, no doubt, it will also be desirable to connect the northern end of the line directly with the Astoria branch of the Queensborough System, thence into Manhattan at 125th Street and across 125th Street to Fort Lee Ferry.

The estimated cost of the line as now proposed is $24,000,000, and the time to complete from three to three and one-half years.
NEW SUBWAYS: Proposed Additions to Rapid Transit System to Cost $218,000,000; 1922
The proposed crosstown subway would have run from Coney Island to Harlem via Bedford-Stuyvesant, Greenpoint, Long Island City, and Astoria. The subway was eventually built was far less grand and ultimately poorly designed as it runs a serpentine path through Brooklyn into Long Island City (it once ran out to Forest Hills but was service was cut back to Court Sq, Long Island City in 2001). The IND Crosstown Line was built, almost completely, as a two track local service. That is except for one small section between the Classon Ave station and the Bedford-Nostrand station. Here, for seemingly no reason, there exists a third center track which runs past Bedford-Nostrand under Lafayette Ave and splits into two tracks, quickly dead-ending at Marcy Ave.
There are two good theories for this: first, much like with many other parts of the IND system, many sections were built out to allow for further extensions and new lines. A subway from downtown Brooklyn to Bushwick under Lafayette Ave had been on the planning boards since the original subway was extended into Brooklyn in 1905. In the 1930s the city was building a line from Brooklyn to Queens along Lafayette Ave and left provisions for an easy extension. Second, the third track allows for quick layups for trains in the event of construction or for storage. The MTA does this from time to time where service will only run from Hoyt-Schermerhorn to Bedford-Nostrand due to track work further down the line.
This extra single track now allows for an ingenious new connection, the purpose of this post. The plan would to rebuild the Franklin Ave Shuttle as a subway from just past Botanical Gardens (where it runs along an elevated track) to Fulton St and then extending it to Lafayette Ave (with a new station at Gates Ave) turning east and merging into the current IND Crosstown Line using the existing middle track. This short connection would finally allow commuters to connect to the IND Crosstown Line without having to first go all the way to downtown Brooklyn and allow for commuters on the IRT Eastern Parkway Line to connect to the IND Fulton St and Crosstown Lines.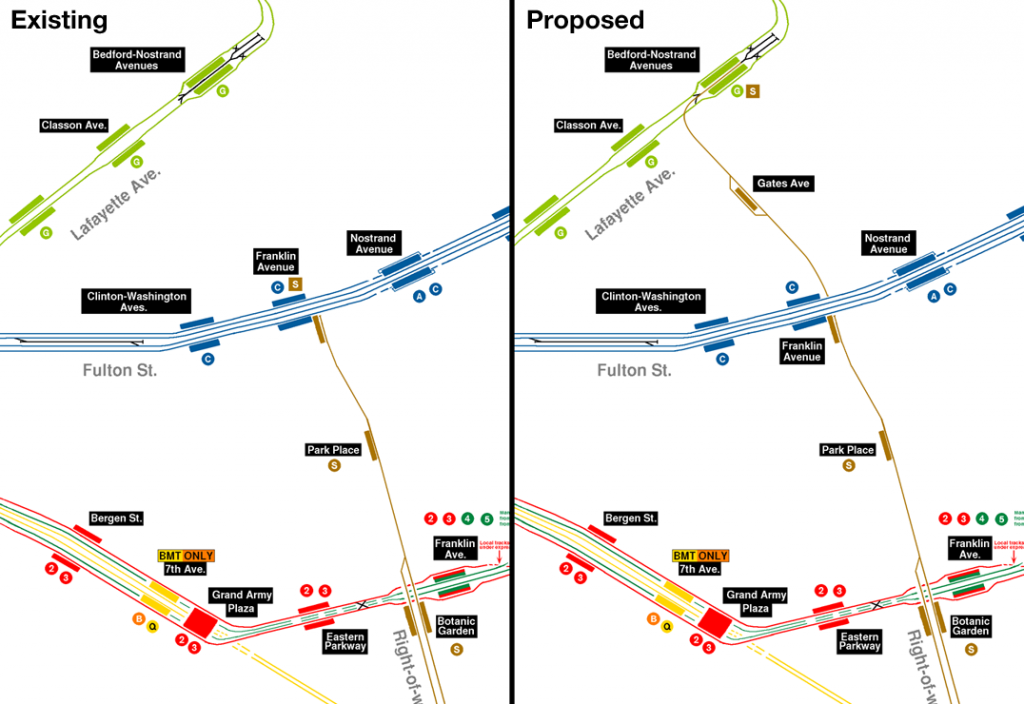 This new subway would be at first built with just one track but with space for a second. At Gates Ave there would be two tracks and an island platform to allow for shuttle trains to pass one another. The current Franklin Ave Shuttle runs a quick route with only two train cars. The new stations would be built for four cars but space would be provided to allow for easy expansion to six cars. This way if the service proved successful then a second track could be added and it would be feasible to run subway trains from Coney Island up to Long Island City (and further out to Forest Hills). At first, though, the line would still run as just a shuttle service from Prospect Park station to Bedford-Nostrand.
Current Bus Rapid Transit Plans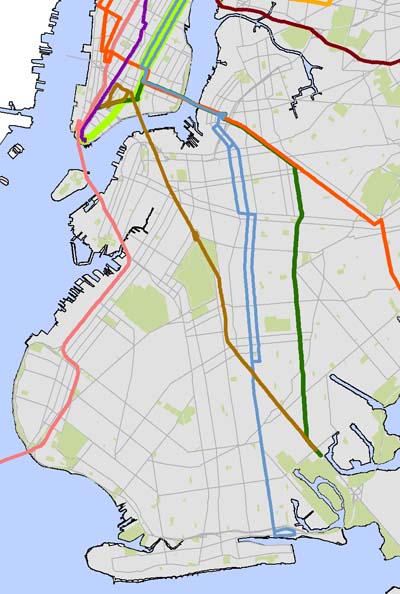 At first glance you might wonder why it would make any sense to connect two lines with some of the lowest ridership in the entire system with a new subway. Like I mentioned before, these lines parallel the main north-south arteries of central Brooklyn, Bedford Ave and Nostrand Ave. These two avenues are some of the few roads which span the entire borough, from Sheepshead Bay in the south to Greenpoint in the north. They serve as a backbone for many of the communities through which they run. A subway connection along this route was proposed almost a century ago and the growth since then has only made improved rapid transit more desirable.
The city is currently experimenting with the idea of Bus Rapid Transit (BRT), buses which run in their own dedicated lanes and have pre-paid boarding systems designed to speed up service. Already these buses are running across the northern Bronx and along 1st and 2nd Aves on the east side of Manhattan. While mostly a success (not without some initial adjustment time by locals) the next BRT line proposed along Bedford and Nostrand Aves have come up against stiff resistance. Unlike the more transit dependent east side of Manhattan, this section of Brooklyn has developed without good subway access and many more people drive. The new bus lanes would take away many parking spaces along their route and this has business owners up in arms.
A true BRT system spanning Brooklyn from Greenpoint to Sheepshead Bay would cost only a few million dollars (full: dedicated lanes, pre-payment systems, camera enforcement, marketing) and no one would imagine that a new subway, however short, would be that cheap. But extending the Franklin Ave Shuttle may still be a more viable alternative. The extension would connect southern Brooklyn with northern Brooklyn using mostly existing tracks and rights-of-way. Construction would only impact a small section of the city. Even with the extra transfers, going by subway would still be faster than a bus, even a bus with less stops. While buses are more flexible than trains, a complete subway connection would do more to facilitate north-south travel than a bus would.