A Commuter Rail Runs Through It
By Joshua Bellin, Cambridge, MA
Chelsea, Everett, Somerville, Dorchester, Allston, Brighton, Belmont, Waltham – all these communities, which are under served by rapid transit, share one thing in common: Commuter Rail lines running through them. For some, like Everett, Allston, Brighton, and Somerville, the Commuter Rail makes no stops. For others, such as Dorchester, Belmont, and Chelsea, the Commuter Rail does indeed stop, although with its limited service, it is far from a true rapid transit option. Besides, these are not bedroom communities with commuters only seeking to arrive and depart North Station or South Station. These are inner suburbs, with inhabitants who live urban lives, and who therefore have a need for a flexible rapid transit option that connects them not only to the financial district, but to other rapid transit lines and other neighborhoods as well. With the MBTA's radial spoke-and-wheel system, which limits all connections to a few stops downtown, this is a fact that is well-recognized, and has led to the planning stages of a so-called Urban Ring rapid transit line.
We will return to the concept of the Urban Ring later. For now, let us briefly explore the possibilities of introducing rapid transit onto Commuter Rail lines. FRA regulations prohibit light rail vehicles sharing track with freight and Commuter Rail trains, and yet Commuter Rail trains themselves, with their push and pull locomotives and their slow acceleration and deceleration, are particularly unsuited for stop-and-start rapid transit.
Enter DMUs – Diesel Multiple Units – trains in which each car has its own diesel engine, allowing the unit to easily make start-and-stop trips. Without any locomotive car, DMUs, which can be ADA-accessible, are very much akin to heavy rail or LRV subway cars, able to act much as the D-Riverside Green Line does, although able to share tracks with fright and Commuter Rail trains.
DMUs are at the center of many proposals for the "Indigo Line" – a rapid transit alternative to the long-neglected Fairmount Line of the Commuter Rail which runs through Dorchester, a densely populated neighborhood which is criminally under served by rapid transit. There, Commuter Rail tracks need to be maintained, since they are the only alternative route into Boston from the southwest. They could, however, be serviced by DMUs fully integrated into the MBTA rapid transit system. As the cost of adding a new rapid transit line goes, the Indigo Line is a bargain: new rolling stock, and new and improved stations. No new tunnels, and a minimal investment in new track, if needed.
The MBTA and its Future Extensions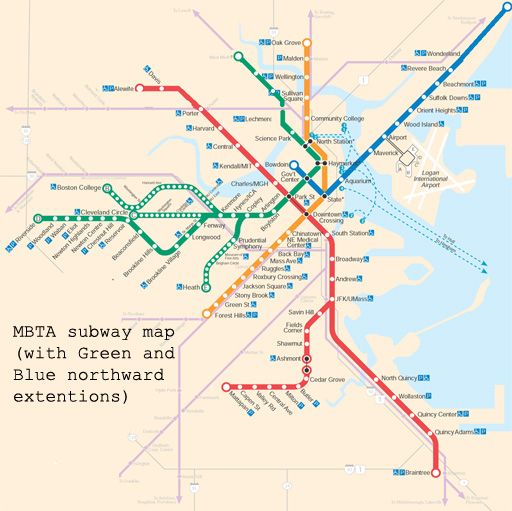 This map illustrates the MBTA rapid transit lines, with two additions. First, the Green Line is extended north from Lechmere through Somerville to West Medford. This is an extension that is likely to occur, and is an important component of this proposal. New plans indicate a spur on this line into Union Square – an expensive addition. With this proposal, such a spur is unnecessary, and Union Square is serviced by a much more cost-efficient option.
The other change illustrated is the Blue Line extended north, possibly to Lynn. This extension is on these maps in order to show future possibilities, although it is not a necessary part of this proposal.
The Indigo Line, Writ Large
This proposal calls for two new DMU rapid transit lines integrated into the MBTA system, running on existing track shared with the Commuter Rail.
As illustrated in MAP A, one line runs from Dorchester – the Indigo Line – to both South Station and, (since through-service through South Station is impossible) along a continuing track bypassing South Station and continuing along the Worcester Commuter Rail line which parallels the Massachusetts Turnpike. This section of the line begins in Newton – either Newton Corner or Newtonville, whichever allows the construction of an end-station most efficiently, and stops along the Commuter Rail tracks at Nonantum, where the tracks cross Brooks Street, North Brighton where the tracks cross Market Street, and Allston at the current site of the Sports Depot, where the tracks cross Franklin Street (the short extension of Harvard Ave after Cambridge Street). It will then stop at Boston University, at the BU Bridge, and then not far from Kenmore, where a pedestrian walkway will allow transfers to the Green Line (B, C, and D). It will then stop at Prudential, connecting to the E line, followed by Back Bay station, connecting to the Orange Line, and where the Commuter Rail will continue to stop. Before South Station, it can make one more stop near the New England Medical Center, at Tremont Street. The line will then split: one spur going to South Station, and the other one continuing along the aforementioned track through Dorchester.
Besides the relatively inexpensive cost of a completely new rapid transit line, benefits of the extended Indigo Line include:
a) Environmental justice for communities including Dorchester and Allston/Brighton, the latter of which used to have the A Line of the Green Line.
b) Relieve congestion on the Green Line by providing an express alternative from Kenmore to the Back Bay and South Station.
c) Relieve congestion at Park Street station by allowing an earlier connection from the Green Line (all lines) to South Station.
d) Specifically relieve congestion on the B Line by providing an express service to BU and Allston.
e) Expand possibilities for "Urban Ring"-like transit by connecting to all lines (except the Blue Line) outside the Financial District.
The Yellow Line, especially its western section from Brandeis-Roberts to North Station, is conceived as a north-of-the-Charles version through Waltham, Belmont, Cambridge and Somerville of what the D-Riverside line is through Newton, Brookline, and the Longwood/Fenway neighborhood. Waltham, the furthest destination of the DMU lines, is a sensible endpoint. Not only is it a densely-populated city with few rapid transit options and a need for environmental justice, but, with its educational institutions and large I-95/Rt 128 employers, it is also currently one of the prime destinations for reverse-commuters on the Commuter Rail. Brandeis-Roberts, with its close proximity to I-95/Rt 128, leaves open the possibility of a Riverside-like parking garage and terminus for commuters adjacent to the circumferential highway. The line will service all current Commuter Rail stops, including Waltham Center, Waverly, Belmont, and Porter Square, and may make new, additional stops between these. The Commuter Rail may no longer need to stop at all stations, such as Waltham, Waverly and Belmont, thus increasing its speed for Fitchburg Line commuters. (It should, however, still stop at Brandeis-Roberts and Porter.) After Porter, it will stop just south of Union Square in Somerville, a station currently (and, according to this proposal, needlessly) envisioned as an expensive spur on the extended Green Line. It will then connect to the extended Green Line at Twin City Plaza, a stop not currently slated for the Green Line extension. After Twin City, the line will terminate at North Station.
On the eastern side, the line begins on Commuter Rail track near Wonderland, currently also the terminus of the Blue Line. It will serve the communities of Chelsea and Everett, and the current Commuter Rail stop at Chelsea can be eliminated, increasing the speed of the Commuter Rail journey. The line connects to the Orange Line at Sullivan Square, and also terminates at North Station. Since there can be no through-service through North Station, the line may, at peak or off-peak times, run trains directly from Wonderland to Waltham, on connecting track that avoids North Station.
Besides the relatively inexpensive cost of a completely new rapid transit line, the benefits of the Yellow Line include:
a) Environmental justice for communities of Chelsea, Everett, Somerville and Waltham. Everett in particular would have rapid transit service for the first time since the Orange Line "El" was closed in 1975.
b) Expand possibilities for "Urban Ring"-like transit by connecting to all northern lines outside of Boston.
c) Maintain a direct link between the historically-connected cities of Somerville and Cambridge, which the Green Line extension alone would not maintain.
d) Relieve congestion on the Red Line and at Park Street and Downtown Crossing by providing Cambridge residents with direct service to North Station as well as more generally an alternative route downtown.
e) Relieve congestion of the Blue Line and at State and Government Center by providing Revere residents with direct service to North Station as well as the alternative route downtown.
Expansion on Unused or Underutilized Track
The MBTA system can be further expanded not only by utilizing Commuter Rail lines for rapid transit, but also by using unused or underutilized track. MAP B suggests two potential expansion spurs along such track: first, a spur from the Yellow Line through the Fresh Pond/Mount Auburn area to Watertown (the tracks terminate at Arsenal, unless the tracks are extended a short distance to service Watertown Square), and a Green Line spur from the D-Riverside Line to Needham along a busy and congested corridor in Newton Upper Falls.
These potential extensions are meant to highlight the potential for rapid transit along existing track, and are not as essential to the main proposal of running DMUs along existing major rail corridors.
A Nice Ring to It: The Harvard Connector
Of more direct value to the system itself would be a spur on the Indigo Line between BU and Allston to Harvard Square through North Allston, as illustrated in MAP C. Trains can then run along five different routes:
Newton-Harvard and vice versa
Newton-Dorchester and vice versa
Harvard-Dorchester and vice versa
Newton-South Station and vice versa
Dorchester-South Station and vice versa
Direct Indigo Line service between Harvard and South Station is also a possibility, although it would be redundant given the direct Red Line connection between the stations.
Unlike the rest of the proposed Indigo and Yellow lines, the "Harvard Connector" on the Indigo Line would require new track, most likely a new tunnel, and a new Charles River crossing – an expensive undertaking, which in the post-"Big Dig" world of Massachusetts politics might seem impossible. However, there are several reason why this project in particular might be fiscally and logistically viable.
Harvard University – one of the country's wealthiest private institutions – is expanding its core campus into North Allston through an ambitious building project. According to Harvard planners themselves, public transportation into the area is a major concern. Additionally, given Harvard's emphasis on being a "good neighbor," transportation in a revitalized North Allston is not just an issue for the university, but for residents as well.
Fortunately, Harvard also owns all of the land from the Allston train yard, directly south of which is the Commuter Rail line, to the Charles River, including an industrial area between the train yard and Western Ave, which Harvard eyes for future expansion. Rail connections exist from the Commuter Rail track alongside the rail yard next to Cambridge Street into this industrial area. This connection is illustrated on the map below in pink, and an alternative entry into the industrial area is indicated in blue. The white triangle delineates the ideal location for a North Allston stop, and the pink circle pinpoints the location of the proposed Allston stop.
The Indigo Line could therefore run on the surface from the Commuter Rail tracks all the way into North Allston. Alternatively, many of Harvard's proposals for North Allston include new road connections, and a cut-and-cover tunnel under a new road might also be a possibility:
This option is illustrated on the map below in orange:
With regards to crossing the Charles, Harvard has envisioned several new crossing options, including tunnels to both the east and west of the current JFK Bridge. For a rail tunnel, it is essential that the tunnel be west of the bridge, since this would make a connection into Harvard Square far less expensive. An abandoned tunnel currently stretches from Harvard Square south to the JFK School of Government (on the west side of JFK Street) and this is the tunnel which can serve the Indigo Line into the Square, where passengers can connect to the Red Line.
While still an expensive proposition, the Harvard Connector would nonetheless have several important circumstances working in its favor. First, its construction would intersect with Harvard's interests and even its future plans for construction in the area, meaning that Harvard may be convinced to provide a degree of funding to the project, not to mention land; second, the line can make use of existing track adjacent to the train yard bringing the rail line into North Allston; and third, linking the connector into Harvard Square can make use of existing abandoned tunnels north of the Charles. Compared to other proposed rail tunnel projects, therefore, this would not be the North-South rail link, or the Blue-Red Line connector.
It should be noted at this point that even without the Harvard Connector, the DMU lines would provide enough benefits – both in bringing service to under served areas and in providing "Urban Ring"-like transit connections – to more than justify its relatively inexpensive cost.
The Harvard Connector would firmly enhance the Urban Ring properties of the DMU lines. Looking at MAP C, one can visualize its potential for engendering transfers outside of downtown. More specifically, it would:
a) Relieve congestion on the Green Line between Kenmore and Park, the Red Line between Park and Harvard, and Park Street station itself by creating an earlier connection to Harvard for all points west on the Green Line.
b) Relieve congestion on the Route 66 bus by providing a direct connection between Harvard and North Allston and Allston/Brighton, as well as by providing a quicker connection to all points on the Orange Line including Roxbury Crossing, via Back Bay Station.
c) Integrate the contiguous academic area stretching from BU to Harvard with the latter's expansion southward.
d) Integrate Harvard with both its Longwood medical campus, as well as the New England Medical Center.
e) Ensure transportation options in a revitalized North Allston, and reconnect the Allston area, which has been fractured and divided since the Massachusetts Turnpike Extension.
The Union Square Extension
While the Harvard Connector may, for reasons previously explained, be a feasible part of this larger DMU proposal, an extension to Union Square via Inman Square as illustrated in MAP D – while consummating the idea of the DMU lines as an Urban Ring – would probably be prohibitively expensive and generally infeasible. If completed, however, it would, raise the possibility of integrating the two DMU lines and effectively creating an Urban Ring transit line from Wonderland to Dorchester via Chelsea, Everett, Somerville, Cambridge, Allston, Kenmore, and the Back Bay/South End. If the expense of an Urban Ring rail line is to be undertaken anyway, this option should be considered as an alternative.
Conclusion
DMUs along existing Commuter Rail lines is a feasible and inexpensive means of adding two new lines to Boston's rapid transit system, thereby both bringing service to currently under served communities, and facilitating "Urban-Ring" like transit connections outside of the Financial District. With the potentially feasible Harvard Connector, this latter property of the new lines can be more fully realized, and would provide very real benefits to the transit system overall, despite not being as complete as with the more costly Union Square connector.