Anyone who takes the BMT Canarsie Line (the L train to most New Yorkers) can see the effects of a decade's worth of gentrification first hand. What was once a postindustrial backwater, bombed out from years of industrial decay and urban unrest, the norther Brooklyn neighborhoods of Williamsburg, Greenpoint, and Bushwick have exploded with growth over the last decade as artists, hipsters, and now YUPy families moved in in search of lower rents and more space (ironically rents are now equal to parts of Manhattan in central Williamsburg). Thousands of words have been written about this type of hyper-gentrification so it would be a waste of time for me to address the social reasons behind it. Rather this is about where we are now and were we are going.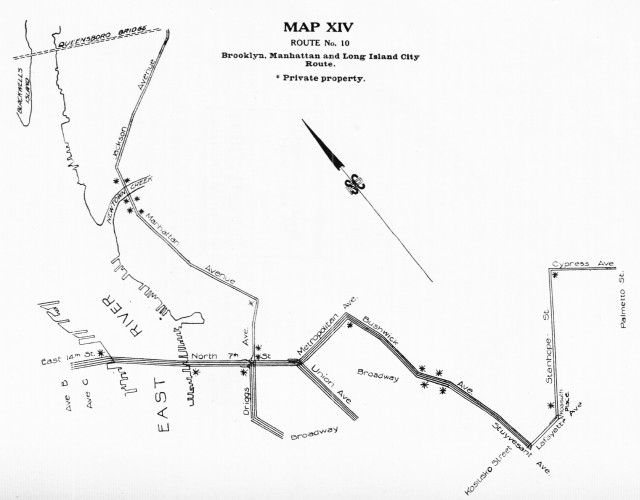 When subway planners first proposed new subways through northern Brooklyn a century ago the city was a different place. Construction costs at the time were low compared to today and the areas around Williamsburg and Bushwick were bustling with industry and newly arrived immigrants (Bushwick was home to many German immigrants who set up a thriving beer industry before prohibition killed it off). The first subways planned along the 14th St and norther Brooklyn corridors were all 4 track lines with connections to Queens and outer Brooklyn which would loop through lower Manhattan. It was an ambitious idea but when World War 1 put a strain on resources and inflation made the cost of building a subway prohibitively higher the plans were scaled back. What started as a 4 track crosstown subway from 14th St in Manhattan to Williamsburg with branches to Bushwick, Coney Island and Utica Ave soon became a truncated 2 track line from 6th Ave to Montrose Ave with plans for an elevated line after that. Construction was further delayed when Brooklyn residents protested any new elevated subway construction causing the Bushwick section to be built as a more expensive subway.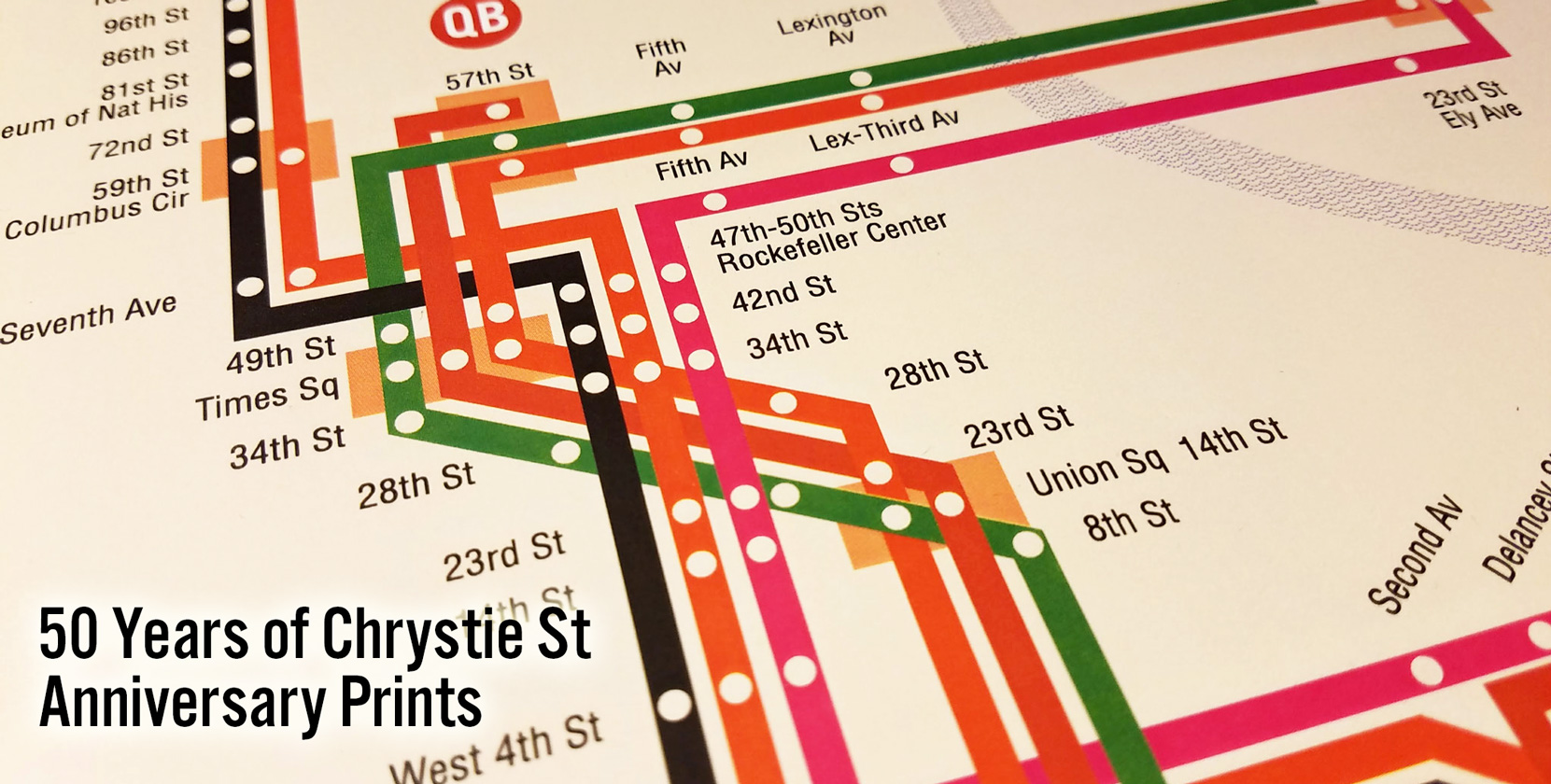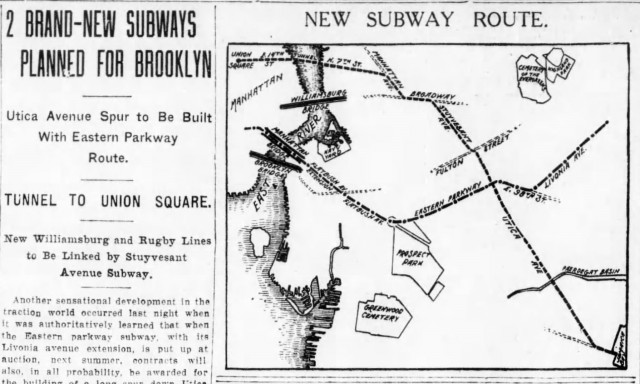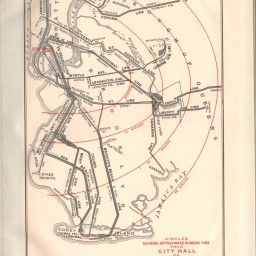 We cannot fault the early subway planners for lack of foresight in building the Canarsie Line since the priority of the first subways were to ease congestion in the central business district (at the time lower Manhattan) and open up farm land in the outer boroughs for new development. The Canarsie Line originally connected to existing elevated lines in New Lots and East New York but when these elevated lines were torn down in favor of new subways these connections were lost and the line was eventually left with the L train from 14th St to Canarsie that we have today.
The Canarsie Line is the only line in the NYC Subway which runs entirely on 2 tracks and does not share its route with another line. This presents certain problems; if a train is disabled on other lines with 3 or 4 tracks trains can be rerouted around it and service continued. If an L train is disabled for some reason all trains along the line are stopped. Crowding is also a huge issue; the MTA has been installing a new computer signalling system which allows for more trains and less crowds, something which is more difficult and expensive on lines with multiple branches. As such the Canarsie Line has been a testing ground for new technologies before they are introduced throughout the rest of the system. But while better signals and more trains certainly help it is only a band aid on a larger growth problem.
Growth along the Canarsie Line has exploded over the last decade and even a lull due to the recession offered only a slight respite as projects that have laid dormant for years have been finding new funding sources and promise to transform the area to an even greater extent. Mega projects like the Domino Sugar plant redevelopment or the proposed Greenpoint Landing waterfront mini-city will bring thousands of new residents, jobs, and commuters to a subway system that is barely able to support the current demand.
In the past I've toyed with the idea of resurrecting the abandoned IND Second System and the South 4th Subway. There is no doubt that if this subway had been built that northern Brooklyn would easily be able to support the new growth going on today. However, since nothing was built apart from a couple of future provisions, it would be wise to find a solution that solves our current and future needs. The subway we have today is not the same as it was 80 years ago and we face different needs than what a South 4th Subway would address. The original South 4th Subway had connections to the IND 8th Ave and IND 6th Ave lines in Manhattan but it is questionable that these connections would properly serve the ridership that uses the Canarsie Line today.
A report (PDF) by the MTA looking at future needs of the system acknowledged capacity constraints between Manhattan and Williamsburg. The M train rerouted along 6th Ave has been a success but this acts more as a bypass for commuters from Bushwick around Williamsburg into Manhattan. Continued growth along the route of the L train, especially near the Jefferson Ave station, means that there still needs to be better transit along the current route of the L train through Williamsburg proper. What seems to be the most effective solution would be to build a second, parallel subway along the Canarsie route which would double capacity as well as allow for express and local service.
Phase 1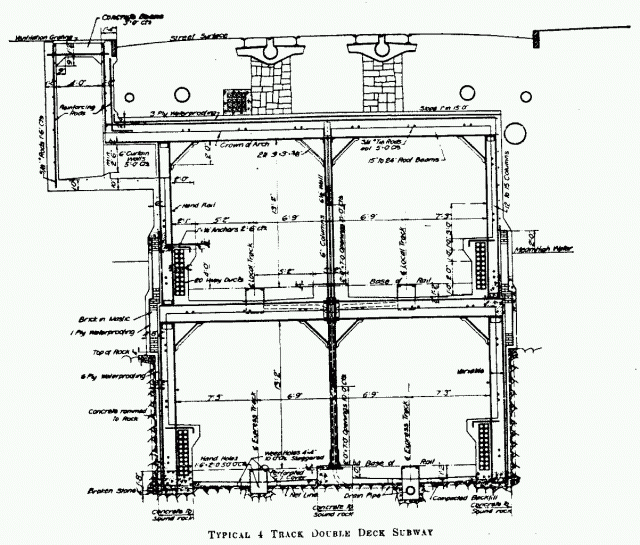 The first option I considered would be a double decked subway with 2 tracks in each direction on either level. This would mean constructing a new subway directly under the existing subway from 14th St-8th Ave to the East River with a new tunnel to Williamsburg running just south of the existing tunnel. The 8th Ave, 6th Ave, Union Sq, and Bedford Ave stations are all island platforms which would mean that if a duplicate level was built below riders could catch 8th Ave bound trains on the upper level and Brooklyn bound trains on the lower level. Stations such as 3rd Ave, 1st Ave, and other Brooklyn stations with two side platforms could be converted into bi-level stations like those along the IND 8th Ave Line along Central Park West with local service on just one side (this would mean that one of the existing platforms in these stations would be abandoned and a new one built below the other operating platform.
While this is technically feasible it would require the existing subway to be supported while a cavern is dug beneath the existing tunnel structure. This is the same basic concept of how Boston built the Big Dig but on a much smaller scale. Street level disruptions due to construction would be minimized but the existing subway would have to be shut down from time to time for connections to be built. This sounds disruptive but is really no different than what riders have to deal with ever few weekends when service is shut down between 8th Ave and Bedford Ave.
The second option would be to construct a parallel subway not below the existing one but rather a block away. Conveniently much of the Canarsie Line runs along city blocks that are spaced closer together than the avenues. A parallel subway would be built from 8th Ave to the East River under 13th St in Manhattan. Platforms under 14th and 13th streets would be connected via new mezzanines as each tunnel would handle one direction of traffic. A new tunnel under the East River to North 6th St would run to Marcy Ave where it would swing under Devoe St. At Bushwick Ave the new and existing tunnels would merge so that local tracks would continue along the existing route while the new express tracks would dive below English Kills to connect with the local tracks again just west of Flushing Ave. Just southwest of Wyckoff Ave, under which the Canarsie Line runs, exists an abandoned and partially developed railroad right of way. The Evergreen Branch was opened in 1876 and once ran all the way from the East River in Greenpoint to Manhattan Beach until 1885. Freight service still ran along the line until 1960. Today the ROW has been partially built over with small buildings and parking lots. Running less than 300ft away from Wyckoff Ave this ROW would be a much cheaper alternative to building a subway under the existing subway tunnels. After the new subway is built the land could then be sold to developers to recoup the construction costs. In the outline below I also have the express tracks swinging north after Halsey St station to a terminal at Myrtle/Fresh Pond Rd which would allow for further extensions into Queens.

View Parallel L Train in a larger map
Phase 2
Each alternative has their pros and cons (cost vs disruption) but if built an expanded Canarsie Line would mean more than just an easing of congestion along 14th St, it would mean that the line could handle branches into unserved areas of Brooklyn and Queens.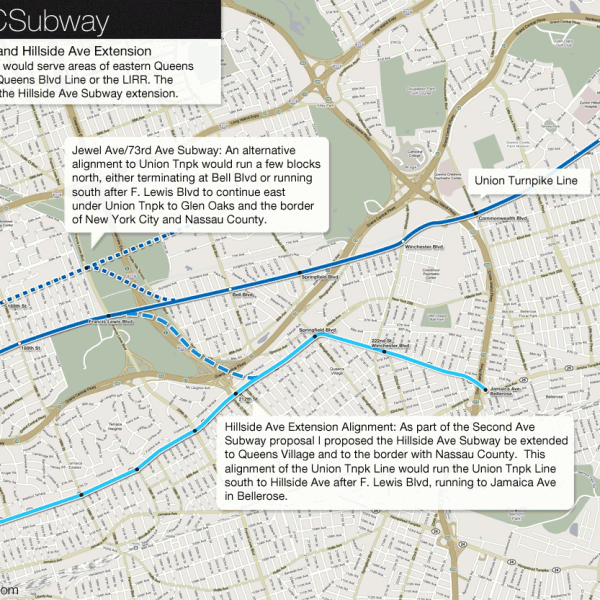 In past futureNYCSubway posts I've explained my ideas for new subways into eastern Queens. The most affordable options would involve extending the existing IND Queens Blvd, Hillside Ave, Archer Ave, IRT Flushing and BMT Jamaica lines further east. Extending subways may seem like just drawing a line on a map but in reality you need to put the trains somewhere. The subways we have today do not effectively serve outer areas of Brooklyn and Queens and while extending existing lines may help it would also mean very long commutes and to these outer areas and more congested trains along existing lines. An expanded Canarsie Line would act as a trunk line for new branches without congesting existing lines.
The two branches I would advocate for would be the Union Turnpike branch out to Douglaston Parkway and a branch which runs through the Archer Ave subway and along the LIRR Main Line to Belmont Park. They would connect to the trunk of the Canarsie Line after Halsey station and run along the existing LIRR Montauwk Branch ROW through Glendale and Forest Park.
In Manhattan my proposed 10th Ave subway could be built up to 72nd St as a 4 track line with express and local service to further address growth in Hell's Kitchen and the Hudson Yards.
Below is version 3f of the futureNYCSubway map showing the expanded Canarsie Line as well as a couple more expansion ideas I will explain in upcoming posts. Stay tuned!