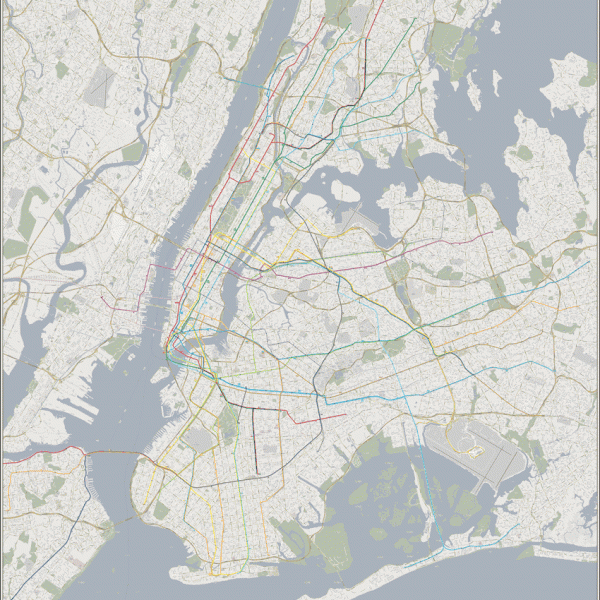 The Map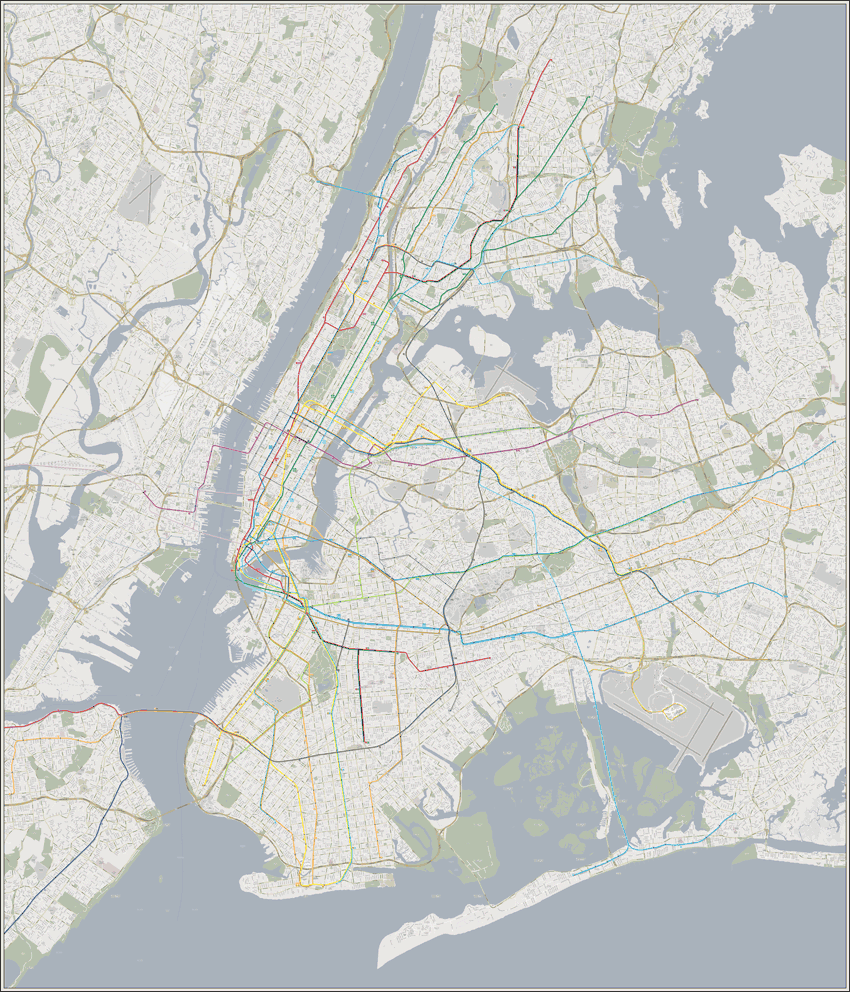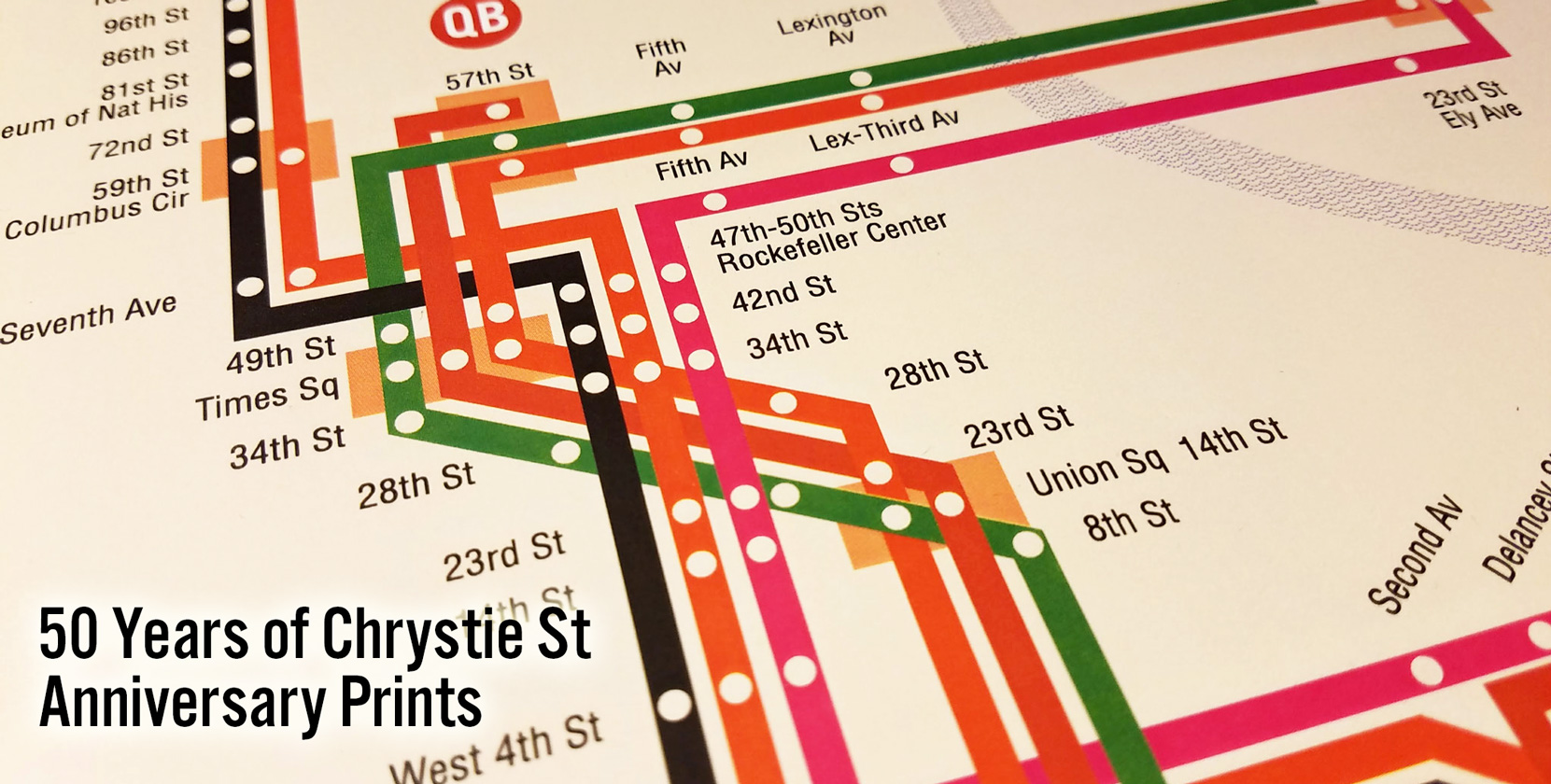 In the drop down menu at the top of this site there is a new link for the futureNYCSubway series. When you click on it you will be brought to a giant map of New York City with the current subway and proposed extensions. Everything which is on that map I've explained in previous posts and I hope to soon ad a feature where you can click on the map to visit a description of the line I propose.
An Explanation
I started doing research for this series about 5 years ago after completing my futureMBTA project. I made a few maps but I soon realized just how ambitious it would be to come up with a plan since New York's subway system is so impressive and has such a byzantine history.
Many people, when I've shown them my ideas, usually express similar feelings: this is great but this will never happen. I don't make plans with the idea that this is something that will happen, more that these are ideas that could, maybe even should happen, but ultimately these are ideas to inspire others of what might actually be possible. Of course there are so many factors which contribute to a project of this size, one look at the history of the Second Ave Subway tells the tale perfectly.
Too many people see these plans in the present context of the way things work in New York (city and state) and how the MTA runs the system. The MTA is a man made structure and is imperfect. This should not dissuade others from trying to push for something better. If subway expansion can not happen in the current political climate then how do we create a climate in which such expansion could be feasible?
Another perceived issue which comes up to thwart expansion is the seemingly immovable object known as the NIMBY (Not In My Back Yard). While it is true that much of the current system was built when the city was still farmland, this doesn't mean that it is now impossible to build a subway. New highways in cities are much more disruptive than a subway or even a light rail line. While no one can deny that construction is a nuisance, it is a small inconvenience in the big picture (and these inconveniences can be mitigated with diligent public outreach).
My modus operendi for all subway expansion plans I have laid out in this plan is real estate development. Remember, while the subways were built to address crowding on the former elevated and streetcar lines in the city, the main goal was to open up new areas of the city for development. Much of the land which was opened up was owned by the very companies which were building the lines as a way of making once cheap, undesirable land closer to the city (commuting time), thus increasing the land's value. The problem today is that there are no longer vast tracts of farm land open for development inside the reach of subways.
But, while we can no longer keep going out, we can keep going up. In the last decade New York City has seen an increase in population such that the city now has a higher population than ever before; this is something no other post-industrial city which saw massive population drain after World War II can say. Planners expect an increase in population of a million people in the next 20 years. Even with this current economic slump these numbers seem plausible. While the mayor has spent millions on making the city more livable, he has only laid a small foundation when it comes to preparing the city's transportation infrastructure for 1 million new residents.
This isn't to say Mayor Bloomberg hasn't done anything, in fact he has one of the most impressive records in terms of transportation improvements in generations. The Second Ave Subway, the 7 Line Extension, the East Side Access project, and the new Hudson River rail tunnel are quite a staggering list of projects to start in 8 years and he is to be commended. But a closer look at these projects reveals a lack of foresight in these projects which may leave the transportation infrastructure bottlenecked in the not too distant future.
The 7 Line Extension does not contain space for a station at 41st St and 10th Ave, an area of the city which has seen extreme gentrification and massive new residential towers grow in the last decade. The Second Ave Subway is not being built with space for an express track system which, if it is ever fully built out, will leave the East Side of Manhattan (and presumably parts of the South Bronx) with less than adequate coverage (to compensate for the all-local subway planners have spaced stations further apart, creating a lose-lose situation for people living on the east side of Manhattan.)
What impressed me when I first read about the IND Second System (even the first system, too) was how ambitious and far-sighted it was. Money wasn't as much of a factor in the design because it was more important to serve as much of the city as possible (which isn't to say money was no factor at all; in fact the stark modernist stations with little decoration was the city's way of cutting cost). Today subway plans are continually cut back or castrated due to cost to the point where they can cause overcrowding problems on trains or, conversely, stunt growth in areas where stations were cut for budgetary reasons. The Second Ave Subway is a perfect example of this lack of foresight.
Many words have been written over the last decade about the lack of ambitious, large scale transportation plans. We look to the other side of the world and see how China is building whole subway and train systems from scratch in the time it takes for out paperwork to get through the labyrinth of our bureaucracy. This, or course, is due mostly to the fact that after World War II cities let the bulldozers loose for one large, often Federally funded, project after another in the name of progress. These projects, housing projects, highways, and everything else under the banner of Urban Renewal, shocked the populous who rightfully fought back. But now we see that swinging the pendulum to the other side, away from centralized large scale developments, can create a quagmire in which nothing can get done, even projects with widespread support. The irony is that many of the protesters who fought against Robert Moses and the highway builders wanted more mass transit, but the outcome of this fight was that the very powers which were needed to build more mass transit have been retarded.
Unfortunately I am not here to try and fix these problems. In fact I don't think I should, as an individual, try. The political system we have is by nature a bottom-up one (as opposed to China's top-down). I truly feel that the bottom up approach is, ultimately, the better one. The problem is that it takes a long time for change to occur as it takes a long time for a seed to grow into a tree. Changing society to the point where large mass transit projects like the ones I've looked at throughout this series are possible will take a generation or two. That may even be a good thing since by then the growth and traffic (as well as other unforeseen problems) will probably reach a tipping point where new subway expansion becomes the only option. The worry is that by that time we don't know if the power and resources will be available to save us.
I write that last bit with slight trepidation since it is important to keep in mind that every time a new transit project is proposed it's proponents point to the terrible problems that will occur if the project is not built. All projects are cast in this light, it seems, so I don't want this series to come off as some sort of high-minded cure for some future dystopia. Many, if not most, of the projects outlined here will never see the light of day and some probably shouldn't. The city is ever changing and a project which looks great today might not be as beneficial in 25 years.
One last thing I need to address is that throughout this series I haven't brought up the numbers; what will these expansion plans actually cost? I'm not an engineer and I haven't the foggiest idea what the raw numbers would be. Much of the cost overruns from projects like the Second Ave Subway or Boston's Big Dig came from relocating existing utilities, many of which were not on existing maps. Another major factor is that because these projects take so long to complete the cost of materials will fluctuate during construction. Inflation is another major factor, but one which needs to be taken into consideration especially when comparing a new project to a subway which was built 60 years ago. When factoring in inflation the billions it would cost to build the Second Ave Subway are not far off from original estimates from long ago.
Since I'm also not an economist I am not going to try to devise a solution to the numbers problem. Like I said, the point of this series was not to devise a plan which would get built but rather try to create a plan which would inspire those in power, those with the technical knowledge, to find solutions to the problems of building such a system. In the past we seemed to have understood how to do great things but today we can hardly balance a budget and keep roads paved. The Vanshnookenraggen Plan for the Future of the New York City Subway is a vision of what is possible when we put petty politics aside and work for the greater good.
the vanshnookenraggen plan
I've explained in detail all the different plans in past posts so now I want to tie them together into a comprehensive plan. If you are unfamiliar with an extension plan you can link back to the post. I have numbered the different plans in order of which ones could/should be built first.
---
The futureNYCSubway